Full-time Freelancer With Kids: A Case Study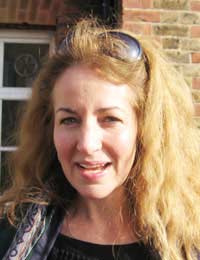 Lisa Silcock, 45, is a full-time caterer from London who takes on freelance contracts, more often than not cooking for large parties and corporate events from home. She has a son Jack, six, and a four-year-old daughter, Natasha.
"I prefer being freelance full-time. I find it a lot more interesting than working for someone else," Lisa says. "I used to work in television, and at one point I had to go to an office every day. It more or less killed me!"
When Lisa gave up the daily slog, she was more than happy to work from home – and very quickly found an established client base. Having short-term projects is something she thrives on, and she can afford to bring in extra catering help should the need arise.
"I need the adrenaline and I like having something to work toward, a production of some sort, not too far ahead in time," she says.
"I work extremely hard for a couple of hours at a stretch, or a couple of days at a stretch, and then I have down time. These peaks and troughs keep me on my toes."
Childcare Issues
Lisa's husband Neal is also freelance – a musician who does the occasional gig, makes his own CDs and also teaches early music to groups of young children. He and Lisa have a "fairly equal share" of childcare, according to Lisa.
"While it's more or less equal, of course I do the organising, planing, thinking, buying presents for the kids' friends' birthday parties, making the pasta sauce for the freezer, etc etc," she laughs.
The most difficult part, she says, is that because both she and Neal are both freelance, planning ahead can be difficult.
"It's impossible to have regular childcare as we never know when we will need it, even if we could afford it to have it regularly," she says.
"Quite often we end up having a job or engagement on the same day, as we both effectively work in the entertainment business, so on a Saturday night we might both end up working.
"Then we frantically ring round neighbours, school friends, and my dad and step-mum for childcare. Luckily, someone almost always manages to step in."
Lisa says that her network of "helpful friends and neighbours, plus having parental support" has been invaluable, and is the only reason why they can continue their freelance lifestyle.
"Without them we couldn't get by, not just between ourselves – unless we had tons of money to spend on childcare," she says..
"With our erratic lifestyle we would have to have someone full-time, as we never know when we would need someone to step in. It just wouldn't be feasible at all."
Trying to Plan Ahead
Lisa and Neal manage to work things out by planning ahead as much as possible. "The biggest thing is we have to sit down at the beginning of the week and work out a childcare schedule between us," she says. "As we both have lots of meetings that can create tension, but we try to get it done.
"It's easier now that both of the children are in school full-time, and they have been used to one of us working and the other looking after them since they were babies so that's not an issue at all."
When Neal recently was working abroad for almost two weeks, Lisa found things a bit difficult, trying to keep up the job as well as being there for the kids 24/7. "When I tell the kids off when Neal's away they scream, 'I want Daddy!'" she says.
Not long ago, however, the two went away for a couple without the children for the first time – to Rome. "The kids stayed with neighbours for a few nights and they were fine. And it was very nice for us," Lisa says.
"We did a load of sightseeing, walking around markets and going to visit Roman ruins - things you could not have possibly done with children."
It was the perfect antidote, she says, for a very tiring lifestyle working as a freelancer.
"I am tired all the time. And I do feel I don't do anything as well as I'd' like to, neither parenting, nor working, nor relaxing," she says.
"Everything has sort of got the edges chewed off, including me."
You might also like...