Improving Communication With Your Partner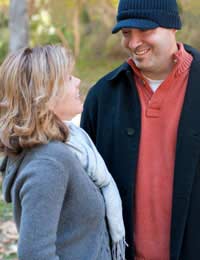 When you have children and things start to go wrong with your partner, life can be bleak. You suffer, he suffers, and the kids begin to suffer as well.
Working mums in particular have it hard, as they are juggling the demands of work, family and relationships on a daily basis. Sadly, it's often the relationship that suffers the most.
While not every relationship can be saved, the key to a strong partnership is communication.
In fact, regular communication can often ensure that a relationship never really gets that bad – and helps relationships that are doing poorly get well again.
Listen to Each Other
Good communication is the foundation of every relationship. Couples who have been together for a while often think they know what the other person thinks and feels. But do you?
You might think you take your partner's point of view into consideration, but are you really listening to what he has to say?
Women tend to verbalise their feelings, while most men internalise them. Helping him talk about what's troubling him, without undue criticism, will allow him to open up to you more.
Be Honest
Psychologists say that ensuring your partner has a safe place to go when he feels troubled is vital. But there is a fine line between being completely honest - and being downright cruel.
All too often we expect our partners to be mind-readers, then feel let down when their actions don't live up to our expectations.
Be honest with your partner, as bottling up your emotions can only lead to a bigger gap between the two of you. Say things in a way that is constructive, not destructive - and expect the same from him.
Make Time to Apologise
We often say things in the heat of an argument that we don't really mean, or we exaggerate reality to make a point. The cumulative effect of such arguing is negative: we make our partners feel unloved and unwanted.
If you have said something that isn't wholly true, take the time to apologise. A simple "I'm sorry, I only said that because I was really angry at you and I didn't mean it," can make all the difference.
It might sound trite, but when we choose to forgive and forget, especially when there are children involved, we're on the right track. Holding grudges will only backfire in the long-term.
Make Time for Each Other
Sometimes partners feel a distance between them because they simply don't spend enough time together, and then they begin to drift apart.
When couples have different jobs and different friends, the only thing that keeps them together is their children. That's not always enough.
Here are some tried-and-tested ways to ensure that you and your partner are regularly communicating:
Go on a date. Schedule an evening twice a month that's just for the two of you. If money is tight, swap babysitting with a friend. Go for a walk, watch a film, splurge on a restaurant meal. If you want, decide beforehand not to fight, or even to bring up sensitive issues. Concentrate on enjoying the food and the atmosphere, and put your problems on the back burner for a while.
Watch less telly. If both of you are working long hours, the temptation to put the kids to bed then lounge in front of the telly every evening can be overwhelming. Don't succumb! Have a candle-lit kitchen dinner, play cards together, talk about your day. Make time for each other.
Find a shared hobby or interest. Doing something you both love will give you more to talk about and bring you closer together. Go to the gym together, start gardening, join a club.
Do something fun – as a family. The demands of everyday life can sometimes make couples too tired to do things together as a family. Treat the kids to a film, a sporting event or an evening at the theatre. You'll be surprised at what a difference it makes.
Learning to communicate as a couple is really the cement of each and every relationship. Failing partnerships can be saved when both members want to save it, and key to that is healthy communication.
Sometimes, however, couples cannot communicate effectively entirely on their own, which is where couples counselling comes in. Talk to your GP about a referral, as free counselling is available.
If you want to make your relationship better, you can. The future is, literally, in your hands – and those of your partner. Go for it!
You might also like...