Working Part-time: Case Study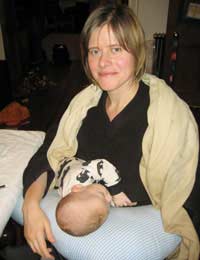 When Anastassia Uspenskaya gave birth to son Mark in 2006, she knew that her job remit would stay the same. That's because she works part-time, running a ballet school in north London with husband Andrei.
"I am able to spend a lot of time with Mark, but it's equally nice to go out and do something different, like teaching," says Anastassia, 36, who's originally from St Petersburg, Russia.
"It's nice to be able to spend time with my son but also nice to have a few hours a day when I am doing something outside of home. It's great that I work only part-time. A change of scenery is always a positive thing."
From Russia with Love
Anastassia and Andrei set up the school almost six years ago. Previously Anastassia taught at other London ballet schools, and before that she danced professionally in Russia and also studied at the St Petersburg State Conservatory.
She admits that she doesn't know if it would have been possible to continue dancing professionally with a small child in tow. "It would depend on the situation. If you have a family ready to help you it's possible, but it my case I wouldn't have had the support," she says.
Childcare wasn't an option for her. "I wouldn't have wanted to hire a babysitter or nanny to take care of my child, so it wouldn't have worked out very well for me."
Instead, she and Andrei trade off teaching, while the other one is with the baby. "I am either working or with Mark, at the moment I absolutely have no time for anything else," she says.
"I know that's not a good way to be, and when he's older I would like to be able to get a babysitter from time to time, when he's at the age where he can comprehend things a little bit more. At the moment it's still quite scary for him."
No Time Off Together
Unfortunately, not having childcare to look after Mark means, at the moment, at least, that she never has time together as a couple with Andrei, who also danced in St Petersburg but has also studied metallurgy and been a professional furniture restorer. "We never have a break to go out together, that hasn't happened yet," she says.
"If I'm not working then Andrei takes over for me. If I'm ill in theory he can cover, but not all the time. It's especially difficult when I teach adult classes, as Andrei might not have the time to prepare. So when I'm unwell I still try to teach, if I can.
"That means that the only break we have as a couple is when Mark's asleep. But as he sleeps in our room it's not really a break, not when he's sleeping nearby.
"I'm not really resenting it, though. Having a child is a once-in-a-lifetime experience. I had a lot of years when I did exactly what I wanted, so I don't mind so much. And I'm very thankful I can work just part-time."
Being Her Own Boss
Anastassia cannot envisage working for someone else, or trading in her part-time status. "I do much better when I work for myself, and also working nine to five hours would be very hard, having to leave Mark the whole day.
"Anyway, I don't think I would be very suitable for office life in general. I don't like other people telling me what to do, basically!
"I don't mean that in an arrogant way. But being told what to do makes me tense, and I end up doing a worse job. I feel much better and do much better when I have to make my own decision, then I don't panic."
She adds that working part-time has been fine financially – although money is always a nice thing! "Obviously it depends what sort of life you want in the long run, but my needs are fairly small," she says. "Financially, everything is fine.
"I don't buy designer clothes and so on, I don't need that much money apart from baby expenses. I don't need that much for myself at all."
You might also like...