Getting the Support You Need as a Single Mum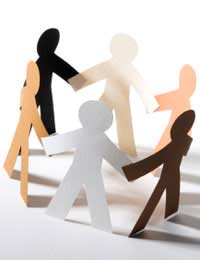 There are times in our lives when we all need a little help. Nobody is completely self-sufficient, and when we have children we find ourselves relying on people more than ever before. For single mums in particular, getting the support you need from family, friends, your children's school and your workplace is vital.
Understanding from Work
If you are a new single mum, it often makes sense to explain your predicament to your boss. In the past there were two of you if a child or childminder became ill, now everything most likely will fall on your plate.
You may have to change your hours to accommodate your children's schedule, and you may have to give up trips out of town, at least in the near future. You may even have to move into new accommodation, which could make it difficult for you to get to work on time.
Family-friendly workplaces are the ideal, but unfortunately they're not all that common. If your employer starts giving you a hard time when you need some understanding, contact your local Citizen's Advice office for legal advice. You may be entitled to more care than you're getting.
Assistance from School
While you don't want to involve your child's school into your personal life, sometimes they need to know a little bit about what's going on. If you're finding it hard to make ends meet, for example, they may tell you how to get free uniforms or school lunches. They also might be a bit more understanding if you cannot donate to the cost of school trips.
Schools can help in other ways as well. That may mean providing you with practical support such as getting your children into the Breakfast Club or After-School Club on short notice, or enrolling them in a holiday playscheme run by the school. You never know until you ask.
Relying on Family
Don't be afraid to ask your family for help. Sometimes that can be difficult, especially if you may be facing an "I told you so" attitude from certain relatives. But swallow your pride and get the help you need. It might come a lot more easily than you think.
Families can be great when it comes to babysitting, looking after children for the weekend, or doing either end of the school run. Hopefully, they can also be relied on to do favours on short notice, if they live close enough, without making you feeling too guilty. Take advantage of it if you're lucky enough to have relatives on hand. A family support network is worth its weight in gold.
Help from Friends
When you become single, it's inevitable that some friends seem to fall by the wayside. Luckily, there are others who will stick with you through thick and thin. Value them and don't be embarrassed to ask for help or support. The old cliché is true: that's what friends are for.
Remember, it's always a good idea to offer to do a bit of free babysitting or childminding for friends who have helped you out in the past. Then you won't feel bad when you ask them for a favour in future!
The Kindness of Strangers
Sometimes you need someone who is in the same situation to really understand what you are going through. There are several lone parents networks out there which offer help for single mums coping alone, as well as organisations that provide practical, emotional and legal advice. Ask for support when you need it.
A Survival Guide that Works
Many single mums find it difficult to cope on their own, and who wouldn't? It can be hard enough to have children when there are two parents around to look after their every needs. But while many single mums want to do it all, in reality that's not possible.
Getting the support you need from the right people is crucial to keeping everything running smoothly – both for your sake, and the sake of your children. Surviving is possible if you make use of all the resources you have, and that means making use of the help that is out there. It's there for a reason. Use it.
You might also like...
I was reading the comment from "h" I can completely sympathise with you . It's been a year for you now your separation I hope your Ina better place. I am a single mum , daughters 9 now her father left when she was just 2 half. The first few months was hard but I manage to get all help and assistance from local organisations egchild psychiatrist,go, midwife, some close friends. I received conselling and I feel so much happier and better the best thing I I've become so much stronger and in better place and my daughter is always getting good feedbacks from school so all in all happy. S
@h - I am sorry to hear this. As specified in the article, many single mums find it difficult to cope on their own, and who wouldn't? It can be hard enough to have children when there are two parents around to look after their every needs. So, you are not alone. Such a separation can be a real blow to both self-esteem and confidence, therefore it is important that you try to build those connections and lifelines back up with people. You may want to give Gingerbread a call via the link
here
. There are plenty of things you can do to get involved, especially by speaking to like minded people who are suffering from similar issues. If you think you are feeling chronically depressed (sometimes it is hard to assess yourself as it can creep up on you) you may wish to talk to your GP. The best option you have is to reach out to others. You will find there are a lot more people in your situation than you think. I hope this helps and good luck.
AWorkingMum
- 9-Jul-15 @ 11:19 AM
Im a single mum for the last 8 months.my daughter is 9 and doesn't want to see her dad,he hurt us so badly was cheating and lying to both of us for months.Im struggling feeling depressed and blaming myself and everyone has deserted me .I can go days without hearing from family .I cut all friends off when I was with my partner as my life revolved around him and our daughter .I just feel so scared and alone all the time
Looking to go back to work I can only do 16 hrs I have 3 children age 18 11 an Want to know how much child tax credits and family tax credits amintitled to