Coping with the School Run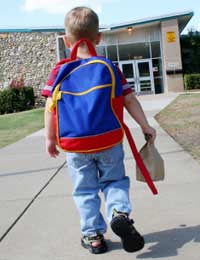 It can be hard to get your children to school on time every morning, especially if you work. And if you have children at different schools, it can be close to impossible, a feat that requires stamina, imagination and plenty of patience.
Just getting your children out of their warm beds can be a miracle in itself. Add to that the difficulty of cramming breakfast down their throats and thrusting them in their uniforms, then the myriad pleas, threats and begging associated with getting last night's sweets scraped off their teeth and their hair flattened into something resembling normality.
Once you get your kids' schoolbags together and fling them out the front door, it's a wonder you haven't either had a nervous breakdown . Then you still have to walk/drive/catch the bus with them to school, and actually parade them through the school gates before 8:55am.
The school run. How do we do it?
Strategies for Coping
Coping with the school run is enough to drive any sane woman into a binge-drinking, Prozac-popping harridan. It can turn the sweetest of mums into a yelling, screaming monster, cajoling her children into doing this, that and the other in an effort to get them to school on time.
If you see yourself in any of this – and chances are you do – there are ways to cope to make the school run a little less of a nasty experience for everyone...
Prepare the night before.
Set the alarm clock an hour early.
Walk instead of drive.
Take the bus.
Share car duties with another mum.
Make Dad do it.
Prepare the night before. Set their clothes out the evening before when they're asleep, then get their schoolbags ready. If they take packed lunch, prepare everything you can beforehand and place in fridge. Set the table for breakfast and pour yourself a large G & T before the onslaught.
Set the alarm clock an hour early. Have a shower before they do, then wake them up half an hour early. That way if they spend an extra 30 minutes in bed or watching cartoons it doesn't really matter. Don't let them know your sneaky trick or it could backfire.
Walk instead of drive. Walking is much better for the environment than driving, and better for you as well. It will also help the kids to get their morning crankiness exercised in the fresh air before they arrive at school. Much less embarrassing for you.
Take the bus. Younger children in particular look forward to public transport. Older kids can wear iPods and pretend they don't know you.
Share car duties with another mum. If you have to drive, start a car share scheme. That way you only have to suffer with your little angels half the time – although the other half the time you'll be suffering with someone else's grumpy offspring as well.
Make Dad do it. If your other is always yelling at you for yelling at them, give him a taste of his own medicine. Let him spend a week driving down crowded roads filled with harassed mums in Land Rovers who don't know how to drive and see how he likes it.
Relaxed but Firm
Coping with the school run isn't an art, it's a science. Even if you live a three-minute walk from your children's school, it still can be hell. Kids don't realise how important it is to get to school on time, and they don't realise that when they're late, they make you late for work as well.
The key to the school run is to plan ahead and take it easy, but stay firm. Whether you're walking or driving doesn't really matter, what matters is your state of mind. Your children will pick up tension from you, and if you're tense they will be as well. Stay calm and do things in an orderly, relaxed fashion, and you'll eventually get there on time. You always do!
You might also like...