How to Attend School Meetings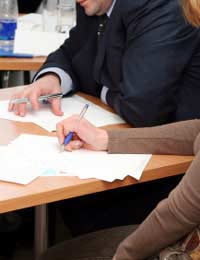 Many parents, especially working ones, are reluctant to attend meetings at their children's school if all seems to be going well. They often feel there is no point, and that it takes too much time out of their busy working day to show up for something unimportant.
But attending parent-teacher conferences can be an integral part in the role you play in your children's education. It's so important that in some low-income areas in the United States they actually pay parents to come to school meetings, thinking that involved parents make successful pupils.
Planning Ahead
Planning ahead for a parent-teacher meeting is crucial. Most teachers allot only a 15-minute time slot for each parent, so you need to prepare to get the most from your time. First of all, that may mean springing for childcare so you can come unencumbered, or offering to share childcare with another mum who has a meeting at a similar time.
While you no doubt have met your child's teacher at the beginning of the school year, by the time the first meeting rolls around you'll have a rough idea of your child's progress, weaknesses and strengths. With this in mind, you can think about what to discuss with the teacher.
General questions to ask the teacher can include:
What is the planned curriculum for the year?
What areas of knowledge and/or skills will they be expected to know by year's end?
How is homework given, who corrects it and when?
What type of feedback do you give the children?
Are there any areas in which I can help out?
Specific questions about your child can include:
Is my child accomplishing the tasks given?
Is he or she doing especially well/poorly in any given subject?
Does he/she relate well to the other children, getting along well socially?
Are there any areas in which he or she needs to improve?
My child is not challenged enough. What can we do?
What can I do to help my child's progress?
Guidelines to Good Parent-Teacher Relations
Before you have your first conference, talk to your children and tell them what the meeting will be about, and explain that you will relate what transpires to them when you get home. Reassure them that this is a routine meeting, and that they shouldn't feel worried. There are also ways to get the most from your meeting with their teacher on a more personal level:
Remember the exchange is give-and-take, so let the teacher talk. After all, whatever they say may change your attitude, and the approach you take.
Ask the teacher how the two of you can work together if there is a problem. Don't leave everything up to them, but at the same time allow them to take some responsibility.
Ask for follow-up meetings if necessary. Show that you want to be involved but not that you want to take over. Having an interest is key, but don't make the teacher feel that you because you obviously know more about your own child that you can do better.
Show an interest in samples of your child's work, and feel free to discuss any concerns you may have about what you see. If something doesn't appear right, listen carefully to what the teacher says before jumping in to criticise. Ask questions in ways that are not confrontational.
Everyone benefits when parents choose to involve themselves in their children's school. Fostering a strong home-school connection is just one way a school can help pupils to learn better. Having a good relationship with your children's teacher is the first – and perhaps most important - step.
You might also like...
Very brief and to the point on how to raise issues at a parents meeting. Thanks!
Khawer
- 22-Mar-11 @ 1:16 AM