Keeping the Romance Alive as Working Parents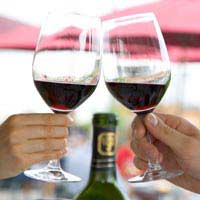 Working parents find it all too easy to concentrate on their jobs and children, and all too difficult to spend time on each other. If you feel completely overwhelmed by the demands of work, children and marriage, you're not alone. But don't let life's pressures stop you from caring for your partner.
It seems we're all busier than ever these days, and sometimes it's easy to feel that the spark has been extinguished and the passion starting to wane. But if you can keep the romance alive by making each other top priority, and you'll find that your relationship with your children – and with yourself - will be strengthened as well.
Strategies to Minimise Conflict
It's hard to feel romantic about someone when you are constantly bickering over whose turn it is to stay home with a sick child, or who should be doing the washing up. Handling stress is key to making time for each other, as there's no use going out for dinner together when you can hardly stand to look each other in the face. Use these strategies to nip conflict in the bud:
DO: Talk about problems before they spiral out of control. It's no good waiting until things build up, and then exploding.
DO: Listen. Even if you think he's being a complete pillock, remember that you'll get nowhere if you refuse to listen to his side of the story.
DON'T: Be defensive. Listen to your partner's side of the story and try to keep an open mind.
DON'T: Over generalise. Try not to make sweeping generalisations and try to pigeon-hole your partner into acting a certain way all the time. Saying "You always do this, you always do that" is counter-productive.
DON'T: Insist on always being right. Once you hear what he has to say, you might realise that he actually has a point (then again, you might not!).
Tips to Rekindle Romance
Remember why you fell in love. Did your heart skip a beat the first time you saw him across a crowded room? Remember your first weekend away, or when he introduced you to his best mate for the first time? Recalling what attracted him to you in the first place can help when things get tough – and they always do when the pressures of family life get too much.
Use kind words. It's easy to take each other for granted, especially with the demands of work and kids. Often that means snapping over little things and getting angry over nothing. Try to be nice to each other and give each other compliments when possible.
Make time for each other. It doesn't have to be a weekend away or even a fancy evening out. It could even be a once-a-week romantic meal at home once the kids are in bed, with the telly switched off and a bottle of good wine on the table. Try not to spend all the time talking about the kids or complaining about work, use this space to get closer together.
Do something nice for each other. Offer to take the kids out on Saturday so he can watch a football game with his mates, or stay home and babysit so he can go to the pub. He'll enjoy spending some time alone, and hopefully he'll reciprocate. Spending time apart and giving each other time alone can be an effective way to nurture a relationship.
Renew your vows. Letting the whole world know why you chose him can be an exhilarating feeling. And anticipating some wedding night fun and frolics can be exciting too!
Get physical – without having sex. If you've been together for years, it's easy to go to bed without kissing each other goodnight. Get physical again by holding hands or giving each other foot massages without the pressure of sex. Close contact helps couples feel closer, and hopefully passion will follow – eventually.
Get kinky. You don't have to swing with Charlie and Edna next door, but it might be worth getting in some massage oil or sexy lingerie to re-energise your lovemaking and rekindle those fires...
When you're a working parent, the demands of children often take precedence over everything else, and romance flies out the window. Make time for your partner and use stress-saving strategies that work, and hopefully romance will follow suit.
You might also like...