Going on Regular Dates with Your Partner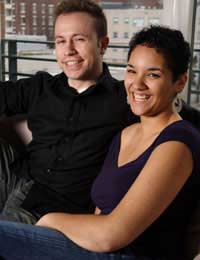 All too often, working parents get too busy to spend any quality time with each other, and eventually their relationship begins to suffer. When a couple have children and both have jobs, it's easy to see how this can happen. While the concept of "date night" might sound corny, it actually can help save a relationship.
All it means is having a regular night out with your partner, either going out for dinner, to see a film, or even staying at home together enjoying each other's company. The important thing is that this is done on a regular basis, not just as a one-off. If you can't afford a babysitter and don't have relatives who can help out, join a babysitting circle or ask a fellow mum if she wants to trade babysitting on a reciprocal basis. Or try a date night at home (see below!).
Date-Night Ideas Out
Visit a live event, such as a concert or jazz night in a pub.
Take turns surprising each other to set up your own secret venue for a date night. If his choice of venue is horrible, console yourself by knowing you never have to go back.
Visit a karaoke club and spend the evening laughing at each other. After all, you probably laugh at him all the time anyway!
Pawn the kids off with friends and take the time to enjoy a swanky Champagne brunch at that little bistro you've always wanted to try.
Exercise together with your partner at your local gym, then go out for a (healthy) meal nearby.
Take an evening class together – gardening, yoga, flute, French – then go out for a meal or a drink.
Try your luck at a casino.
Fill up a picnic basket with yummy treats and go for a stroll in the loveliest part of town. Don't forget the wine and candles!
Go to a club together and revisit your disco past. Make sure you and your partner dress up in true 1980s attire for maximum effect.
Get a his-and-her massage at a local spa.
Date Nights at Home
Rent a complete DVD series, then spend every Thursday watching an episode together with popcorn and beer. Alternatively, make a list of all the films you've always wanted to see, then start Movie Night at home every Saturday once the kids are tucked up in bed.
Splash out on a bubble bath for two, with candles and sexy lingerie.
Read romantic fiction out loud to each other, then retire to the boudoir...Ask your partner to share his fantasies and you share yours, to really get you both in the mood.
Cook a difficult or fun-to-eat meal together, such as sushi or fondue.
Create a picnic in your living room, with a green throw rug, picnic basket and finger sandwiches. Don't let the children know or they'll be jealous!
Spend a night in playing board games. You might be pleasantly surprised when you witness your partner's prowess at Scrabble, or see how cut-throat he is when it comes to Monopoly. He may have hidden talents you are not aware of...
Date nights work best if you can set aside one particular night per week that you know is reserved just for the two of you. If you can't always make that night try a different slot – the important thing is to keep it up so you get used to spending quality time together with your partner.
Making time for each other is the best way to rekindle the romance in a relationship, and to rediscover why the two of you ever got together in the first place. Dating your husband or partner is an effective way of reigniting fires that seem to have gone out. Be creative, and have fun!
You might also like...