Top PTA Fund Raising Ideas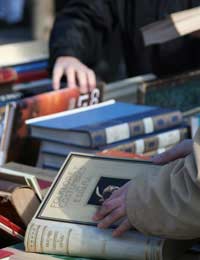 Most Parent Teacher Associations, or PTAs, exist not only to bring the school community closer together, but also as the school's primary fundraising bodies. Whether it's to raise money for computers, playground equipment or art supplies, PTAs play a vital role in helping get much-needed funds for their schools.
PTA members meet regularly to brainstorm events and think up ideas to raise funds for their school. Some events take place annually, such as the much-loved Christmas Fair and Summer Fete, but often PTA members strive to look for new, creative ideas to capture other parents' attention and imagination – and hopefully encourage them to dig deep.
Interestingly, some of the best-loved fundraising ideas require the least effort, such as staging a school disco, selling used school uniforms or holding a series of car boot sales. Others, however, require months and months of planning, even though the event itself might last just a few hours.
Easy Fundraising Ideas
Here are some of the best tried-and-tested ideas around…
Class Teas. Having a weekly or monthly class tea is a great way to raise funds. Usually, the PTA supplies necessities such as paper plates, cups and cutlery, while parents bring in baked or bought goods, as well as snacks and drinks. Some schools opt to sell off entire cakes, while others prefer to sell individual slices or fairy cakes, or a combination of the two. Schools with healthy eating policies might decide on healthy snacks only, which can be individual cups or popcorn, pitta bread and humus, fruit skewers, chicken drumsticks, fruit and bagels.
Tea Towels. This fundraising idea works best right before Christmas. Have each child in the school draw a tiny picture of their face with their name written underneath, which will be collected then sent off to an internet-based company to be made into a colourful printed towel. The towels are then sold – often 3 for £5 – as a welcome gift for parents or grandparents in the holiday season. Larger schools can do one towel with faces from KS1, another towel with pictures of the older children.
Nearly New Sale. Ask parents to bring in (almost) new, clean and pressed clothes to sell to other parents cheap, then pocket the funds. A variation on this theme can be a used book or a toy sale. If you expect a lot of items to come in, plan on taking the unsold pieces to your local charity shop afterwards. Stress to parent beforehand that no broken, stained, torn or ripped items will be accepted.
Quiz Night. Like a pub quiz, this evening will not appeal to everyone. But to those who love testing their wits, a school quiz night is a fantastic night out – and a great way to raise money for the school at the same time. The PTA supplies nibbles (crackers, cheese, grapes, crisps) and the quiz, along with a cash bar. Charge anywhere from £5 to $20 for tickets – depending on the school – and you'll have a tidy sum when the night is over.
Auction. Auctions can be tied in with Quiz Nights, or held on their own. Ask local businesses to donate prizes in exchange for publicity, then prepare a small flyer that includes the name of all the participating businesses. Prizes can include anything from a hair-cut at the local hair salon, to dinner for two at the French restaurant down the road. Start the auction prices relatively low, then work up to higher ones. Hint: You'll get more money if a cash bar is on offer during the auction!
Seasonal Fairs. Christmas Fairs and Summer Fetes are usually big school fundraisers, bringing in lots of money for schools every year. Asking local businesses to take part in exchange for donating a portion of their profits to the school can make the event even more profitable.
Top Tips
Planning a PTA fundraiser might sound easy, but the most successful ones are planned with a lot of forethought, patience and diplomacy. You might want every parent in the school to take part, but that's not going to happen. Don't pressurise others, or your tactics will backfire.
Many parents work full-time; others simply aren't interested. Whether or not they want to help is up to them. It's not a statutory requirement for being a parent – although you might think it is!
Keeping the ethos and social make-up of your school in mind at all times is also important. Charging a lot for events might sound like a good way to raise much-needed cash, but don't charge so much that some parents will feel excluded because they can't afford the ticket.
Most importantly of all, have fun. Your goal might be to raise money, but how you get there is just as important. Be inclusive, be creative and remember – it's all for the kids!
You might also like...