Pumping Breast Milk at Work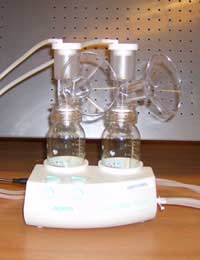 No matter what job you have, it should always be possible to pump breast milk at work while your baby is small. Breastfeeding benefits both mum and baby, and employers have an obligation to allow mums to continue giving their babies breast milk when they return from maternity leave.
The best way to do this is to speak to your employer beforehand, and come up with an action plan. You will need to decide where you will pump your breasts, and at what times throughout the day.
You will also need to ensure in advance that there is a clean and private place for you to do this. Remember, it is not considered best practice for employers to offer toilets as a suitable place to pump breast milk!
Planning Ahead
Advance preparation is key when it comes to pumping breast milk. You should be able to pump enough to ensure your baby has an adequate supply when you are work. Here are some points to consider:
Don't expect to pump perfectly the first time, so practice pumping at home first. This will also be important as you will need to leave an adequate amount of expressed milk with your baby when you return to the office.
Find a clean, private area to pump your breast milk. Some women find it is easier to pump their breast milk if they have a photo of their baby to look at, or soothing music to listen to.
Invest in an electric pump. Manual breast pumps work well, but for maximum efficiency, electric ones – especially hospital-grade pumps - are best.
Make sure there is a place to store the milk until you can take it home, such as a designated shelf in the office fridge. You may want also to have ice packs, or the equivalent, in which to carry the milk home with you, as well as a portable cool box.
Breast milk will stay fresh for up to five days if stored at 4 degrees Centigrade, usually at the back of the fridge, according to the National Childbirth Trust. It will last for six months in a freezer, and two weeks in your fridge's ice compartment.
You may need to sterilise your equipment in the office if you plan to pump more than once a day, so it will also be necessary to have sterilising equipment available at your workplace.
Wear comfortable clothes when breastfeeding. You may want to bring a change of clothing with you, and a good supply of breast pads is important, especially at the beginning. A shawl or scarf for added privacy might be beneficial.
Decide, in tandem with your employer, on specific breaks to pump your milk. Adhering to a schedule will be best for you as well as them. If needed, offer to make up lost time either by coming to work earlier, leaving later, or taking a shorter lunch or other breaks.
You might want to ask if you can work flexible hours from home while you are breastfeeding. This means you may be able to work three days a week in the office and the rest at home until your baby is a bit older.
Talk to Your Colleagues
If you decide to pump breast milk at work, then talking openly to your colleagues about your plans is the best idea. If you are really lucky, you might find a fellow mum to pump milk with you. And if your baby is in a nursery on-site or near your workplace, you may be able to take breaks to breastfeed.
Employers should be aware that UK law states that women have the right to continue breastfeeding when they return to work. But you will need to provide your employer with a written notification stating that is your intent when you return to the workplace.
Breast milk is good for your baby. In fact, the World Health Organisation recommends exclusive breastfeeding until your baby is six months of age, and then continuing to give breast milk while your baby is being introduced to solid foods.
If you want to continue giving your baby breast milk after you return to work, there is no reason why you shouldn't. For some women, combining breastfeeding with bottle feeding is the best solution. It's all up to you!
You might also like...