Employing a Cleaner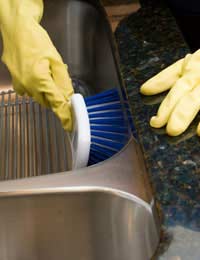 When actress and comedienne Caroline Ahearne moved to the posh suburb of Hampstead, north London, she decided to take her working class roots with her. She declared that she would not consider employing a cleaner, implying that doing so would invalidate her status as a member of the proletariat.
Well, there's no argument that it may be frightfully middle-class to hire someone else to clean your toilets and mop up your kitchen floor. But for working mums with little time to spare and houses to clean, employing a cleaner is often the best way to keep on top of things – and stop the dust bunnies from accumulating.
If you decide that hiring someone to clean up after you is the right choice, you'll soon find that choosing the right person can be difficult. Too many women believe that nobody can clean to their standards, which isn't true. The best way to maintain a happy cleaning arrangement is to have firm expectations from the very start, and communicate them as early as possible.
Steps to Hiring and Keeping the Right Person
Get a recommendation
Pay the going rate
Develop a relationship based on trust
Don't ask for extras – unless you pay extra
Treat cleaners with respect
Get a recommendation. The best way to find someone is to ask a local friend to recommend someone they know and value, then check other references. While there is still the chance they are not the right person for you, at least you know they are a secure and safe choice. If you go through a cleaning service, you'll pay more and won't be able to choose the cleaning products you want used.
Pay the going rate. Ask around and always offer to pay the normal price. Getting someone because they are cheap is not fair on them, and is usually not real value for money. Depending on the area you live in, expect to pay anywhere from £5 to £10 an hour.
Develop a relationship based on trust. Decide early on whether you need to be there while the cleaner is there, or whether you can give them a set of spare keys. If you really can't trust them alone, get someone else. Be aware, however, that it is human nature to be nosy, so if you don't want your cleaner taking a sneaky peek at your personal things, put them out of sight.
Don't ask for extras – unless you pay extra. Cleaners clean homes. As a rule, they do not perform more specific duties such as washing windows, cleaning out the car or mending the roof. If you want them do more – even ironing – ask them first and if they agree, decide on extra hours for the tasks to be performed – and extra money.
Treat cleaners with respect. People who work for you are individuals who deserve to be treated like the people they are, and in kind they will treat you with the same due care. Let them know they can help themselves to drinks, pay them on time and be nice!
Getting it Clean from the Start
Make a list of what needs to be done in every room and which products to use. Tell your cleaner which tasks need to be done weekly, monthly and bi-monthly. Be realistic: don't expect them to clean a nine-bedroom house in two hours.
Show them how you want things done. It's no use just closing your eyes and hoping for the best. If you have specific requirements, let them know.
If you want specific cleaning products used on specific areas, be clear from the start. Ask them to alert you when they run out of cleaning supplies so they are always on hand.
Don't be embarrassed to speak up if you are dissatisfied with something, and encourage them to make suggestions and recommendations as well. A mutual partnership works best.
Employing a cleaner will not only give you a cleaner home, but it can help in reducing general stress levels and free up time for yourself. Getting a cleaner may seem like a luxury, but it can revolutionise your life. Maybe even Caroline Ahearne will have a change of heart...
You might also like...
Having a cleaner might seem middle class but it's not these days. When so many work it can be a necessity. And as long as you treat the cleaner with respect – it's a perfectly honourable way to make a living – then there's no problem. It's advisable not to employ a friend of neighbour in case they don't do a good job, though, as talking about it can be difficult.
Alice
- 4-Oct-12 @ 9:51 AM
We live in Scotland - My wife and I are trying to hire a cleaning person but so far the people we have spoken with, none of them have their own personal injury or accidental damage insurance. In the effect of an accident are we liable?Can you please advise and what is the appropriate procedure?
David
- 14-Apr-12 @ 4:12 PM