Practical Stress Relieving Tips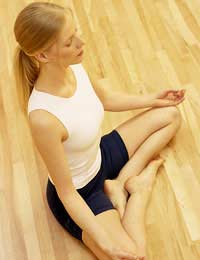 Everyone gets stressed once in a while - but somehow, mums seem to get stressed more than anyone else. It's no surprise, really, when you think of the demands placed on mothers today – especially those who work outside the home as well.
If you feel sometimes that the pressures of working and taking care of children are getting the better of you, then you're not alone. But if you think that there is no way out, take heart. There is.
Here are some fantastic stress-relieving tips to take some of the burden out of being a working mum. Remember, sleep deprivation, unhealthy eating and not paying enough attention to yourself are the worst culprits when it comes to stress, so once those are taken care of, it's easy sailing!
Healthy Eating and Exercise
It might sound like an old cliché, but never under-estimate the importance of eating healthily, and taking regular exercise. Stress releases the hormone cortisol, which contributes to an increased amount of fat around our abdominal area, and also a lowered immune system.
Cortisol is the hormone that is attributed to our "fight or flight" response, and to keep healthy we need to relax after the hormone has been activated. Unfortunately, many people today – especially women – are found to be in a state of chronic stress, which means we never relax.
Stress-management techniques are a way for us to calm down and take control of ourselves and our high stress levels. Combined with healthy eating, these techniques can help us manage the way we look, think and feel in today's busy world.
Some helpful stress-management techniques include:
Yoga, Pilates or other forms of calming exercise
Going for long walks
Practicing meditation or healthy breathing exercises
Listening to music or other forms of calming relaxation
Sex
Top Tips
On a more far-reaching note, there are several tips to follow which, when incorporated into your daily routine, can make life a lot more enjoyable, and hopefully cut down on stress in the long-term. They include:
Breathe once in a while. Take time to reflect upon what you're doing, and ask yourself if you can't cut down on some of your obligations from time to time. You might really enjoy being active in your child's PTA, for example, but do you really need to bring a homemade cake to every event? There's a reason there's a bakery on the High Street.
Do something fun. Women who do things for everybody else often forget to do anything nice for themselves. Go the gym, have dinner out with a friend or your partner, or go out for a drink with the girls after work. Many working mums feel so guilty about not spending enough time with their kids that every free second is spent with their offspring. That doesn't leave any time for you – or for you and your partner as a couple.
Escape from it all. There is no better way to recharge your batteries than to go away for a weekend – or even a night. It doesn't have to be anything expensive, you can even spend a night at a friend's house after an evening in the cinema. The change of scenery will do you a world of good and you can close your eyes and imagine you're actually in Barbados, not Bognor Regis,
Delegate, delegate, delegate. Women often believe they are the only ones who can do a task, and do it right. But if you get into the habit of delegating, at home and at work, you'll soon find that other people are capable too.
Learn to say no. Being Superwoman is not fun. Don't over-extend yourself, or your whole family will suffer. If it's not that important, don't do it! Saying no the first time, whether it's to a unnecessary business trip or an unwanted school commitment, may be difficult. But it gets easier. Know your limits.
Attaining the elusive work/life balance is never easy, especially when you have children. But working mums need to realise that you can't really have it all, if you have never have time for yourself.
Don't let stress get the best of you. You know yourself better than anyone, and you have it within your power to create your own creative strategies to keep work and home life under control. Do what makes you happy, and work towards getting rid of the things that make you miserable. You can do it, and there is no time like the present!
You might also like...