Dealing With Guilt Because You Work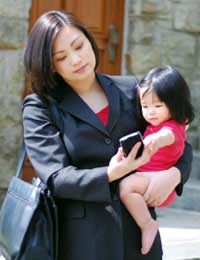 Many working mums feel guilty some of the time. Maybe it's when you had to miss your child's school play because you were away on a business trip, or when you had no time to bake homemade cakes for that class tea. Or maybe it's when a stay-at-home mum gave you such a disparaging look when you showed up late for your child's parent-teacher conference.
Women work because they want to, because they need to, or a combination of the two. Whatever your reasons for re-entering the workforce after your children were born, it's important that you feel genuinely comfortable with your decision.
No Need to Defend Yourself
All too often, working mums feel compelled to defend themselves. But you really shouldn't feel that way. Do men feel guilty because they are the breadwinner in a family? Of course not! You shouldn't feel guilty either.
In fact, several studies have shown that children do not suffer when mothers work outside the home, and that no developmental delay has been found among small children whose mothers went back to work when they were still babies. The quality of the parenting is the most important thing, according to research, not whether Mum picks the child up from school five days a week.
Don't forget that in today's economy, women who seem to be happy staying at home – and who sneer at those who do the opposite – might suddenly find themselves in a position where they are forced to get a job themselves...
Guilt-Free Checklist
If you are feeling guilty about working, think about why. There might be valid reasons – you may be dissatisfied with your childcare, for example, or your partner might not be pulling his weight around the house. Perhaps you need to make some changes in your life to give you a better work/life balance.
Assuming those things are not real issues, perhaps your guilt shouldn't really be there. It could be that someone – your mum, your mother-in-law, a good "friend" – is making you feel guilty. If so, look at their motivations for heaping on the guilt, and try to walk away.
It can help to think about all the positive reasons you work, and to list them all down. Next time you're feeling bad, pull out the list. Reasons might include:
I work because I love my job
I work to feed my family and pay the bills
I work because I'd be miserable staying home with the kids all day, and they would suffer
I work because I'm in a competitive field, and to take a five-year/ten-year/20-year break would be incredibly detrimental
I work to set a good example to my daughters
I work so my children can have some extras, such as a three-week holiday abroad every year, piano lessons and long weekends away
Other Types of Guilt
Even mums who work from home suffer occasional guilt. "I often have to do late-afternoon interviews when my children are home for school, and as they sometimes take several hours my kids have started to resent them," says Lydia Homerton, a journalist from south London.
"And I occasionally get really stir-crazy from sitting alone in front of my computer all day, and take it out on the kids. Or I find it difficult to switch off as my home and office are in the same place, which means when they get home from school I am constantly checking emails and making phone calls.
"Sometimes I think it would be better if I had an office job. Then I could give them my full attention when I see them," she says. The grass is always greener..
Gnawing Guilt
If your guilt doesn't seem to disappear, maybe it's time you took stock of what you're doing, and re-evaluated things. Take a bit of time off to spend with your children, and see how that goes. You might find yourself chomping at the bit to return to work, you might find that you feel you're actually missing a lot.
If that's the case, ask your employer about flexible working hours or working term-time. You might find that combining part-time working is the best way for you and your family.
Whatever you do – whether you work part-time or full-time, in an office or from home - there will always be an element of guilt involved. It's because we're mums, and we want to give our children 100 percent.
But none of us are superwomen, and it's time we recognised that we never will be. You are doing the best you can. Maybe it's time you gave yourself a break!
You might also like...