Preparing Your Yr 6 Child to Travel to School Alone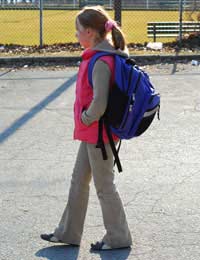 Starting secondary school can be a frightening time for children, and an even more frightening one for parents. While children are primarily concerned with making new friends and keeping up with their schoolwork, their mums and dads are often petrified about them getting to and from school on their own.
While it's normal for parents to worry about their kids, getting to and from school independently is an essential part of growing up. Helping your ten or eleven-year-old feel confident and act confidently is a vital part of their making the journey safely.
One way to do this is to start early. That doesn't mean allowing your six-year-old to walk to school on his or her own. What it does mean is teaching your child about both traffic safety and stranger danger from an early age, to prepare them for entering secondary school when they're a bit older.
It can also mean working intensively to prepare your Yr 6 Child for that eventual journey in advance, taking them to and from their future secondary school and eventually allowing them to make the journey independently. If you're working full-time it might be hard to do accomplish this, so you might need to either take some time off or practice with your child during your own summer holidays to get in enough adequate preparation.
Set a Good Example
One way parents can prepare their child early to travel to school independently is to set a good example. That means waiting for the red man to turn green on pedestrian crossings, never crossing between parked cars and holding onto small children's hands and forbidding them from running on ahead.
Older children can start planning to travel independently by learning to always "stop, look and listen". You can also start early by encouraging them to show you the safest way of crossing a road. They can also learn how to judge the speed and distance of vehicles and learn where to look when crossing intersections.
You can encourage your Yr 6 child to not feel nervous by allowing them to make small trips outside the home alone when they're ready - to the corner shop and back, for example. Your Yr 6 child should be ready to make small journeys independently, and it's better to allow them to take baby steps early on rather than expecting them to make an entire journey solo when they hit secondary school.
Using Public Transport
In most areas of the country, children aged between 11 and 16 are eligible for free transport on buses, to facilitate them getting to and from school. In London children of this age are also eligible for a free Oyster card, with reduced fares on the Tube.
Even if transport is free, however, it can still be difficult for young children to feel comfortable travelling on their own. You can make the transition easier by travelling the school route in advance with your Yr 6 child, then eventually allowing them to make the journey on their own.
When you travel with them, make sure you show them alternate routes of getting to and from school, if they have to rely on public transport. Make the journey several times, perhaps once a day over the course of a week during the summer before they begin secondary school, and then allow them to make the journey independently.
Parents – and children - often feel more comfortable travelling to and from school if they travel in a group, or simply with another child. You might think your child is the only pupil in your area travelling to your chosen secondary school, but that might not be the case. Other children also could be travelling along the same route to other schools in the area, so ask around.
Do's and Don'ts of Traffic Safety
Here are some basic do's and don'ts your child should be aware of before travelling to secondary school alone...
Don't allow your child to talk on a mobile phone when walking to school.
Don't allow your child to listen to music on headphones while walking to school.
Don't encourage your child to blindly walk on a zebra crossing; they need to make sure all vehicles are stopped before proceeding.
Do encourage your child to walk with other children going to school.
Do make sure your child is wearing safety stripes and/or bright clothing during the dark winter months.
Do make sure your child never gets into a car with someone they don't know.
Do make sure your child knows alternate routes to get home, in case the bus/Tube isn't working.
Do make sure your child has emergency contact numbers, apart from yours, in case you are not available.
Practice – and Relax
Travelling independently to and from secondary school is a rite of passage for many eleven-year-olds. If you prepare them to have basic safety awareness – both traffic safety and stranger danger – then travelling alone, whether on public transport or not, is a great way of helping them to become sensible, independent adults.
Make sure your child leaves plenty of time to arrive at school promptly, and equip them with a mobile phone in case they need to contact you in an emergency. Practice the route many times beforehand, and make sure they get enough sleep so they can start waking up earlier to make the journey on their own. Then – if you can – relax!
You might also like...