Packed Lunches for Both You and the Children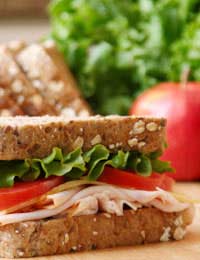 In today's economic climate, it makes a lot of financial sense to take a packed lunch to work. And while some children adore school dinners, if yours despise them, it makes sense to pack a lunch for them as well. But what can you prepare that is nutritious and affordable, but doesn't take a huge amount of time to prepare?
Guideline for Healthy Eating
The government has set out guidelines for a healthy lunchbox, including foods from the following four groups. Make sure you and your children have at least one item from each group every day:
Fruit and veg. More exotic fruit such as kiwis, passionfruit and even grapes can replace the old apple and orange. Tinned fruit in low-sugar syrup is also good, as are smoothies and purees (see below) as well as dried fruit. Veggie sticks with a dip or a light salad is also a good idea.
Breads and cereals. Wholegrain is best, and avoid all refined flours and sugars. When buying cereal bars, look for ones low in sugar and fat.
Milk and dairy products. Lowfat options are usually best, although not for all children. Soya products can substitute, and are also a great source of protein.
Meat and meat alternatives. This can include fish, turkey – anything at all! If nuts are allowed in your children's school they are a good protein source as well.
Shortcuts to Quick, Healthy Lunches
Make extra dinner.
Prepare the night before.
Buy smoothies or purees.
Serve inspirational sandwiches - and salads.
Give healthy treats.
Heat it up.
Make extra dinner. If you are making pasta for your evening tea, set some aside to make into a healthy pasta salad the following day. Chicken drumsticks, sausages, cous cous salad – there are lots of food items that are delicious served cold which can be put into a lunchbox.
Prepare the night before. Many items can be whipped up the night before to save time, and either placed in the fridge or even in the lunchbox, if they're non-perishable. If you put a juice box in the freezer overnight, it can be used as a cool box the next day and will thaw by lunchtime.
Buy smoothies or purees. Many kids leave apples, bananas and oranges untouched in their lunchboxes, so there's no point continuing to serve them. Instead, why not whip up a morning smoothie – or buy prepared ones? Pureed fruit in containers – applesauce, blueberry/raspberry mix – also taste delicious and will ensure you and your kids are well on to their five-a-day.
Serve inspirational sandwiches - and salads. If both you and your kids are getting tired of the same old ham-and-cheese on brown bread, try something new. Spice up the ham and cheese with a bit of salsa served inside a tortilla wrap, or try hummus with pitta bread. Be creative, and your family will never get tired of what you serve. Remember, you can spice up your own lunch with a few olives or some jalapeno peppers – or even a gooey treat your kids are not allowed to take to school! Also, add feta cheese, olives, peppers and other yummy items to salads for a special dish.
Give healthy treats. Many schools ban crisps and sweets, so why not make your own flapjacks or serve rice cake sandwiches with either peanut butter or marmite in the middle? Low-fat or soya yogurts are also yummy – and nutritious.
Heat it up. Adults usually have access to a microwave at work, meaning you can take soup, a tin of spag bol or whatever takes your fancy, then add some grated cheese and have a tasty, warming meal. Kids don't have the same access at school, so invest in a good flask to keep their soup warm. Homemade soups can be made in enormous batches and frozen, then just thaw out, microwave and pour into a flask.
Making a healthy, packed lunch isn't rocket science. Take the children with you to the supermarket and let them have a say in what you purchase. Encourage them to try new things but also provide them with items you know they love. Make use of leftovers – especially rice, pasta and noodles – and add veg, cooked meats and dressing to make a new dish. Experiment with different types of salads and sandwiches, and buy healthy treats, including yogurts and smoothies. You can't go wrong!
You might also like...