Working Out a Work, Life, Kids Routine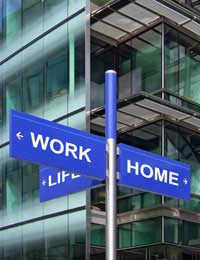 Working mums don't just have dual roles, they have quintuple ones. Not only do we have to look after our jobs and kids, but our husbands/partners require time from us, and the daily household chores are often primarily our domain. Then there's time for ourselves, which if we don't get enough of, can make us feel cranky and miserable.
Unfortunately, there never seems to be enough time in the day for us to accomplish everything we want to do. That's why working out a sensible routine that allows us time for a healthy work/life balance is so important. It's vital not only for our own happiness, but for the happiness of our partners and children as well.
Top Five Working Mum Roles
Working mothers have a lot on their plates. It's no wonder we find it difficult to keep everything up and running when we have so much to concentrate on:
Job
Kids
Husband/Partner
Household/Home Duties
Time for Yourself
Job: Our jobs often seem to take priority, as without an income everything else falls by the wayside. But while it can be easy to let our jobs take top billing, when thinking about your daily routine remember why you are working in the first place. You're working not only to have a fulfilling career, but to pay your bills and make sure your children have what they need. Don't lose sight of the end goal.
Kids: Our children mean the world to us, and we often feel we're letting them down by having to work. Ignore studies that say that children of working mums suffer. Our children look up to us for both bringing in the bacon – and frying it up in the pan. The key to having them appreciate what you do is to make time during the working month for them alone – on weekends and occasionally during a school function or event, if possible.
Husband/Partner: Taking your partner for granted becomes a habit when you have a million other things to think about. But your relationship with him is often the pivotal point of everything else. Include time for each other as a couple in your daily routine. Even if you start small with a shared glass of wine together or just a chat after the kids are in bed, soon you'll see big results.
Household/Home Duties: Many women don't feel on top of the game if their home is in chaos. If you can, get a cleaner. If you can't, get the kids and Hubby involved in doing chores. But don't let a perfect house take precedence over everything else. If you are faced with the choice of taking the kids to the zoo Sunday morning or cleaning out the cooker, go for the former.
Time for Yourself: Being alone to do what you want is important. You need time to spend with your friends, go to the gym, read a book, have a facial or just stare at the ceiling. Make time for you in your weekly routine, and organise a schedule that allows you to have fun. If you don't, you'll regret it.
Working out a sensible work/life routine, and making sure that you get the balance right, is something every working mum should strive to achieve. While it can be difficult to include aspects of the main five areas in your life every day, it's important to do so. Neglecting even one area can backfire, and it can be more difficult to rebuild what's been destroyed than to build it right in the first place, and keep it well-nurtured.
Making lists of your top priorities and keeping the end goal in mind is key to making sure you have a healthy life balance. Organise your time correctly, and make sure you leave enough space to breathe, smell the flowers and enjoy everything you have. After all, that's why we do it, isn't it?
You might also like...