Set up a Car Share Scheme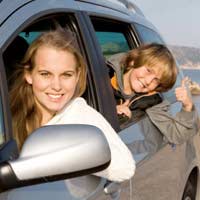 Transporting several or even one child to school can take up a lot of time and money, and if you have children at different schools it can make things incredibly difficult for everyone. If public transport is limited and you live too far away to walk, setting up a car share scheme with other parents may be the most viable option.
Strategies to Setting Up Scheme
Setting up a car sharing scheme may seem daunting, especially if you are new to the area or if your child has just enrolled in a new school. But making use of the many facilities out there to help establish such schemes means it's easier now than ever before. Alternatively, if you ask around with parents in the area, you might just get incredibly lucky...
Speak to other parents
Post a note
Look online
Find an alternative method
Ask at after-school activities
Speak to other parents. Ask around to see who's out there. You may find a parent quite close to you whom you never knew existed. If your child has just started secondary school, the school administration may be able to tell you of other families that live near you who may be willing to share car duties.
Post a note. Whether you choose to advertise through the school newspaper, post a note in the local newsagent's or make flyers it's up to you. The important thing is to let other parents with children know that you're out there. Give your mobile number and hopefully you'll get the right replies.
Look online. Many car schemes that hook parents up with others looking to share the school run are available online. Many, if not most, do not charge for their services.
Ask at after-school activities. Often kids end up staying after school for sports activities, drama or chess clubs, and need to come home at different times. See if you can find a parent whose child is in the same club as yours to share the driving with. This may make sense even if they don't live that close.
Find an alternative method. Another way to share the school run is to find parents who will take turns accompanying children on public transport. This may be an easier – and cheaper – option than a car share scheme.
Benefits of Car Sharing
Viable solution to pollution
Saves money
Eases congestion
Saves time
Helps save natural resources
A Word of Caution
Just as you wouldn't want your children to get into a car with a stranger, you need to make sure the parents they are driving with are safe, both as individuals and as drivers. It's important to interview parents you don't know carefully, and also to try and assess their driving skills, if possible. Not all people are good drivers, sadly, and you don't want to let your children drive off with anyone.
If your children still require carseats then make sure this is taken care of beforehand, as not all parents adhere to strict safety rules. Discuss with parents early on the importance of wearing safety belts etc as well. More than anything, go with your gut instinct. If you feel a parent is unsafe for any reason, make your excuses and leave. It's better to risk being seen as rude than to risk your child's life.
You might also like...