Freezing Meals Ahead of Time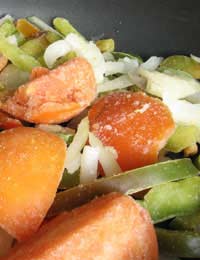 While many women love to cook, busy mums often dread preparing the evening meal simply because they have little or no time to do it right. With few dads professing any culinary skills whatsoever, it's no wonder we so often rely on unhealthy ready-meals and frozen snacks to feed both ourselves, our partners and our children.
Savvy mums, however, are starting to freeze meals ahead of time, which is both a healthier option as well as a more economical one. It's easy to save yourself that dinnertime madness by having a wholesome meal you know your children love ready and waiting in the freezer. It's not hard to do – if you just know how. Buying a slow cooker is also a good option...
Two for the Price of One
The easiest way to freeze ahead is to make two meals every time you cook. Preparing a batch of Spaghetti Bolognaise? Why not make two – then freeze one? Making your grandmother's famous lasagne, or your own special cottage pie? Buy twice the ingredients and pop one – or two – extra in the freezer. Two weeks from now you'll be ready to eat the same meal again, and it'll be sitting there ready and waiting for you.
Make a Weekend of It
Set aside one morning a month when your husband or partner takes the kids out and leaves you to it. Do a supermarket or online shop in advance to ensure you have all the right ingredients in, then start cooking. If you make five batches of just two dishes, that's ten dinnertimes already planned.
Ask for Help
If you don't have the time, energy or skills required to make and freeze all your own food, you might get lucky and be able to have someone else do it for you. Many nannies and au pairs have "down" time when the little one is having her nap, or when the older two are in the garden kicking a football around. Ask her to whip up a couple of her famous meatloaves and freeze them, or leave out some recipes for her to try. If she likes it, you might be on to a winner...
'Make-Ahead Meals' Club
Invite six friends over one evening to make seven batches of their favourite dish. Then you dole them out so that you each have a week's worth of meals ready to pop in the freezer. Get together beforehand to make sure all the different families involved will approve of everything on offer, and to share any allergy concerns etc. This can work if you do it right!
Freeze Main Component
You can always freeze half the meal and make the rest fresh to save both time and energy. For example, make an enormous batch of meatballs, freeze in portioned freezer bags, then pop out when you need them – just add a jar of pasta sauce and some pasta. Having the main ingredient ready to go is a real timesaver.
Freezer Tips
Only buy specialised freezer wrappings that are both waterproof and vapourproof.
Wrap meat and baked goods in aluminium foil before putting them in freezer bags to let them stay fresh for longer.
Always write the date, product and amount (ten chicken drumsticks, half pound of Caribbean chicken stew, tuna casserole) on the freezer bag so you know exactly what's inside, and how long it will last after freezing.
Make sure you get as much air as possible out of the bags before freezing. Liquids require a tiny bit of room for expansion.
Don't stint on plastic containers. Buying cheap ones can often be a mistake, especially if you find it impossible to get the lids off when you need to.
Cool foods quickly before placing in freezer. The best way to do this is to place the container in a sink filled with ice water. Some foods may require stirring occasionally to cool evenly.
Freezing ahead of time can be a timesaver and also ensure you have healthy and nutritious meals available to feed your family at the drop of a hat. Don't allow any perishable food items to stay at room temperature for more than two hours, and defrost all food carefully. Safe, slow thawing inside your fridge is the safest way.
You might also like...