Sharing the Workload as a Busy Parent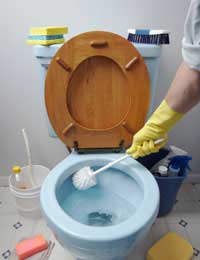 When both parents work outside the home, it can be difficult to divide up the household chores. In fact, psychologists say the majority of squabbles between working men and women with children revolve around who does what at home. It seems most mums and dads are constantly bickering over whose turn it is to empty the dishwasher, tidy up the toys or make the next meal. Why?
The answer, it seems, is because of the children. Before kids, it never seemed to matter if the bed stayed unmade or the dishes dirty. There were no toys to tidy, fewer clothes to wash and no packed lunches to make. Most importantly, if the house was clean it stayed clean – for longer than an hour.
Stop the Squabbles
Studies have shown that no matter if both parents work, the majority of work on the home front is done by women. So it's no wonder they resent it! While it's probably not possible for Mum and Dad to share taking care of the children and the home 50/50, when both parents work the goal of equally shared parenting is one many strive to attain.
If you and your husband or partner seem to be always arguing over whose turn it is to have a lie-in on Saturday or who does the bulk of the household chores, it's time to take action - before those petty squabbles turn into something more sinister.
Doing His Fair Share
There are ways to manage the marital maze and make the workload more equal. If your man needs convincing, tell him that American researchers have found that men who do the washing up have better sex lives than those who don't...
Make a rota. It's no use bickering about whose turn it is to get up with the kids this weekend, or who has to take Bella to her violin lesson Sunday afternoon. Get all the housework and childcare duties down in writing so it's perfectly clear whose turn it is to do what.
Teach the old dog new tricks. Some husbands say they never do the laundry because they don't know how to use the washing machine (no, really). Show him.
Let him choose his own work. If he prefers cooking to washing up, let him cook all the meals. And if he prefers weekend childcare to Hoovering, that's fine too. Hopefully he'll also like doing some of the chores you'd prefer not to do.
Reward him. Let Hubby know how much you appreciate him, and remember that actions speak louder than words...
Involve the kids. Make a game out of it. If the children see how much fun you're having, it'll encourage your partner to join in and do more as well. Men who don't do housework probably had mummies who did everything for them while their daddies stared at the telly. Don't let your children grow up that way.
Get a cleaner. There still will be chores that need to be done but getting a cleaner, if possible, should stop the two of you from fighting about the most obvious ones. Make sure the cleaner does all the jobs the two of you hate the most.
Go on strike. If all else fails, stop doing things for him. Let his dirty Y-fronts and shirts sit in a bag on his side of the bed and refuse to do any ironing. Buy takeaways – for one.
A recent US study showed that American lesbian couples share the housework and childrearing duties much more equally than heterosexual couples. Overall, the average wife does 31 hours of housework per week, while average husbands only manage to accomplish 13. When both parents work in full-time paid jobs, the report said, the average wife did 28 hours of housework weekly, while her husband only managed to do 16.
It's impossible to have any semblance of domestic bliss if you resent your husband for his lack of willingness on the home front. Sharing the workload and stopping the chore wars before they blossom into full-scale Armageddon is vital to keeping the peace. Remember, guys. Nothing says "I love you" more than scrubbing out the toilet..
You might also like...