Why Consulting Might Work for You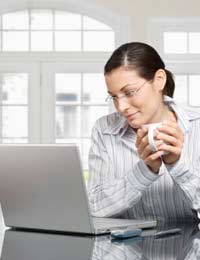 Many working mums find it difficult to combine home and career, and wonder whether a part-time or working-from-home job might be the answer.
Yet for many highly skilled professionals, home working doesn't always appear to be a good solution. While the hours might be flexible, the pay is not always very good – or at least, not as good as one might make in a full-time office job.
Luckily, there is always consulting. Consulting jobs are where you offer your own expertise – be it in management, organisational development, fashion or business – to another company for a fee.
The advantage is that you can take on a short-term consulting job or a long-term one, basically using your skills for as long a period of time – or as short a period of time as you want to. Often, you get paid more than you did doing something similar as a paid employee - and have added flexibility as well.
Types of Consultants
Here are just a few of the consultant jobs out there:
Fund-raising consultant. This involves identifying potential donors in your specific field to contribute to the organisation's success. Often used in non-profit organisations.
Management consultant. Help a firm maximise its growth potential, improve its bottom line or create value from within.
Landscape consultant. Working for private residences or properties to design one specific project, or a series of projects.
IT consultant. Work within a company to either help them sort out specific IT problems, install new IT systems or work with other aspects of computer-related systems.
Tax consultant. Specialise in specific areas of tax law, such as family law, small business law or corporate law.
Legal consultant. Help solve specific problems, or be on call to deal with legal issues as and when they arise.
Advantages of Being a Consultant
For people used to being in an office job, there are lots of advantages to being a consultant. Basically, you are freelancer who is able to take on jobs at will, making the most of a specific expertise in one area. Unlike being a full-time employee, you have the luxury of turning down as many jobs as you wish – and taking on as many as you can handle.
For working mums in particular, a freelance lifestyle can be particularly appealing. You can choose your own hours, meaning that you can take the children to school and pick them up. You can schedule your own holidays, so if you can afford to take the whole summer off, you can.
You also will be removed from office politics, you can usually charge extra for overtime, and you can improve your own skill set at another company's expense. What's not to like?
Getting Started
These steps should at least help point you in the right direction:
Identify a market where your own specialised experience could be of use. Whatever your expertise is, now is the time to make the most of it.
Call consultants in your area and find out who has hired whom and when. Do your homework. See if there really is a market at this time, and learn what you need to do to make yourself desirable to potential clients.
Decide your "office hours" and salary. Will you be paid by the hour, or per project? What about reimbursement for expenses?
Save at least three months' salary to put into getting clients – and waiting for that first payment. Any less, and you might not make it.
Get a home office, business cards and an online presence, such as a website or blog. Hook up an office phone and email, so that your consulting business will run completely independently from the rest of your life.
Market yourself. Your first client could be your former employee – who knows? Reconnect with firms and businesses you once worked with, and use those contacts to your advantage. Register with online agencies, answer ads and start to network. You never know what will come up!
Starting your own consulting business can be scary, but for working mums who want a more flexible schedule, the rewards are easily worth the effort.
Once you land that first consultancy job, hopefully word of mouth will help you get more and more work. Regular clients will eventually give you the freedom to pick and choose your own hours, while the money keeps rolling in. What could be better than that?
You might also like...