Drawbacks and Advantages of Working from Home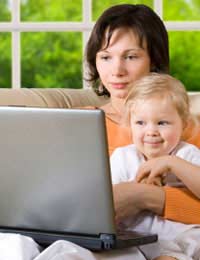 Working from home is something many mums dream about. Having the freedom to spend more time with the children, create your own schedule and work independently sounds ideal. But in reality, home working has both advantages and disadvantages, and isn't everyone's cup of tea.
If you are considering making the move from an office job to working from home, either starting a home business or working for your boss on your own time, you need to weigh up the pros and cons carefully.
Not everyone thrives by working alone without regular interaction from others, and many find getting motivation on their own difficult. It can be hard keeping track of commitments and appointments on your own, and you may find you miss the office gossip.
If working from home suits you, however, it can be a life-changing situation. Employers often appreciate home-workers as well: studies have shown that allowing people to work at home increases employee retention, especially for those with childcare responsibilities, and can increase productivity. Home workers also have fewer sick days and incur less overheads.
Here are some of the drawbacks and disadvantages of working from home. Look them over and think carefully about whether this is really the right career move for you...
Drawbacks of Working from Home
You might miss the office politics. Many people love working in an office because they thrive on the hustle and bustle of office life – the good, the bad and the ugly. If you can't leave without a daily injection of office gossip, home working may not be for you.
You can be easily overlooked. If you are working for a company, you may be overlooked for promotion – even if you are on staff – as you are less visible than office employees who show their faces every day. It is also harder to stay on top of developments in the office, and you may feel out of the loop.
You won't have someone to cover for you. If you come down with the flu and need to lie in bed for a week, you may lose clients and money if your work for yourself, which is not an ideal situation when there are bills to pay.
Your household may suffer. You might think working from home will give you loads of time to carry out the household tasks. But if you are busy with clients on the phone with the baby sleeps, or using every minute your kids are in school to furiously finish a project, your carpets may go un-hoovered and your clothes unironed.
You might be easily distracted. Some people are unable to resist the lure of daytime telly, coffee or long telephone chats with friends, or chores that need to be done. Setting daily and weekly goals can help you overcome a lack of supervision, but you'll need to be brutal with yourself.
Advantages of Working from Home
You can save money. How much money do you reckon you spend every day on work lunches and public transport to and from the office, not to mention the cost of buying a work wardrobe, dry cleaning etc? If you drive to work, the care and maintenance of a vehicle, not to mention petrol and insurance, can be prohibitive.
You will have flexible hours. If you play your cards right and are able to keep up a productive workload, lots of your work can be doing during unsociable hours, i.e. in the evenings or on weekends. The beauty part is that you don't need to worry about losing pay as you can make up the hours you miss in the daytime doing something else (being with your kids) by working in the evenings.
You are there for the kids. Not only can you set up a schedule to take your children to and from school, but you will never miss a school play again, and can even join the PTA. You can schedule playdates on a whim, help your children with their homework and watch their ballet lessons. It's also easier to plan holidays around their schedules, instead of yours.
You will have more free time for yourself. Working from home means you'll be able to do some things for yourself which you can't do when the children are home from school, such as go to the gym or even take an adult education class. Some women even choose to volunteer once a week, helping out at a local charity or something connected to their children's school.
You will have tax advantages. Home workers can write off many household expenses as business expenses, since your office is in your home.
Look Before You Leap
Not everyone loves working from home, so if you are considering making the move it's a good idea to think carefully before you do.
Talk to women who are home workers and find out about their daily schedules, and ask them to detail a typical day for you. Find out what they consider to be the high and low points of their job, and ask if they have any regrets. Most importantly, think about your own strengths and weaknesses, and whether this is really a career move for you.
You might also like...