Making Your Own Home Office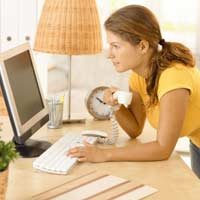 SOHO is no longer just a seedy part of London. Canny entrepreneurs know that it now stands for Small Office Home Office, and is the catchphrase for people who are seeking to set up a small business based in their own home.
Many people these days choose to work from home, whether they are freelance journalists, PR consultants, lawyers or estate agents. For working mums who have very small children or those who want to be able to pick their older kids up from school every day, having a SOHO makes a lot of sense.
And these days, with the advent of consumer technology, it's now easier than ever to work from home, with your own SOHO. All you need is a computer, a decent Broadband connection, a desk and a chair. If you have a spare room in your home you're extremely lucky; if not, a corner of your bedroom or even a broom cupboard will do.
Small Work Space: Think Big!
The first thing working mums need when planning a home office is a dedicated work space. When space is at a premium, that's often the most difficult step of all – but also the most crucial. Even though your confines might be limited, think big. That way, you'll make sure all your needs are covered.
If you don't have a spare room, a corner of your bedroom might be the best place. If you choose to work at the small desk in the kitchen or the lounge, you might be overrun with children when they come home from school.
Your bedroom should, optimally, provide the most privacy – although some working mums opt for a space in a large pantry or cupboard or the garden shed, which may sound tight but ensures they have complete isolation when they need it.
Keep in mind that working in an extremely tight space only works if you don't need to see clients on a regular basis, although you could invite clients to meet you in a cafe, or offer them a cup of coffee in your lounge. Entertaining clients in a broom cupboard isn't advisable!
Creating a Work Station
Once you have a decent space in mind, fit in a desk, computer, printer and other office must-haves. What exact equipment is needed will be dictated by the nature of your business. Draw up a list beforehand and start with the bare minimum.
Things you will need to purchase, if you don't have them already, include:
Communication basics: phone with separate line, computer, printer, computer software, broadband
Office furniture: office desk with space for keyboard and monitor, chair
Storage solutions: filing cabinets, shelving
Office supplies: Paper, ink cartridges, envelopes and stamps etc.
Again, depending on the nature of your business, you will find yourself purchasing more and more items as time goes on, so budget for that. Will you need a calculator? A fax machine? Better speakers for your computer, or a scanner? Only time will tell.
Keeping Work and Home Lives Separate
Even if you have a separate work space at home, it can be difficult keeping your home life separate from your work life when the two are located under one roof. Follow these top tips to stop you – and your children – from going crazy…
Learn how to lock your computer. Nothing can spoil your day more than having a child "accidentally" delete all your work – especially when you have a big report due.
If you don't have one already, buy a lock for your office door – even if it's your bedroom. Let your children know that when the door is locked they're not to enter – unless it's a real emergency.
Try to schedule important phone conversations when the children are at school or the baby is having a nap, to keep interruptions to a minimum.
Plan fun activities in advance for the children if you know you have a lot of work on. Send them to a friend's house, rent a new DVD or plan an arts and crafts project. Break out the crayons and your little ones can pretend to "work from home" alongside you, if needed.
Working from home is a great way to combine work and family, and if you create the right home office space then half the battle is won. Many working mums find that having a SOHO works well for them, and that keeping it separate and isolated from the rest of the house allows them to feel as if they really are at work – and sends a signal to the children that they're not to be disturbed.
You might also like...