Why a Nanny Share Might Work for You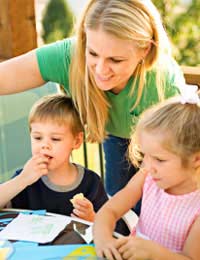 Let's face it: not everyone likes the idea of sending a small child to nursery, and some people don't feel comfortable having their child spend hours every week with a childminder, who might be looking after as many as four other children at the same time.
So if you're a working mum who needs childcare – either before your child is of school age, or after he or she finishes school for the day before you come home from work – then a nanny might be your best choice.
Many people, however, cannot afford nannies, who traditionally charge more than either nurseries or childminders. In that case, a nanny share might work best for you – combining the best of both worlds, as it were.
What is a Nanny Share?
A nanny share is when two families decide to share the services of one nanny. Usually that means that people with children roughly the same age hire a nanny to look after both children at the same time, at a place agreed on by both parents.
A nanny share works best when both sets of parents have the same values and philosophies when it comes to bringing up children, and when the children are compatible with each other and have a lot of the same activities and interests.
It goes without saying that a nanny share is also ideal when the parents have similar working hours, and can decide easily on a mutually advantageous place for the nanny to work.
Benefits of a Nanny Share
A nanny share has many benefits, some of which include:
Your child will get personal attention from one adult, shared by just one or two other children.
Your child will also have the benefit of being with another child, which will make the time less boring and also teach him or her about getting along well with peers.
The cost of a nanny share is much more affordable than hiring a private nanny.
The nanny can perform light household duties and some cooking, which a nursery cannot.
You won't have to pay a late penalty if you are stuck in a meeting or sat on the Tube.
Disadvantages of a Nanny Share
While having a nanny share may sound like the end to all your problems, there can be some disadvantages as well. They include:
Disagreements can abound between you and the other family, or the other family might have a falling-out with the nanny. You could suddenly be stuck paying the entire bill while you frantically search for a replacement family.
The two children might not get along – or simply have very different interests. If one child only wants to play football and the other loves to dress up, you might have a problem.
If the nanny is ill, it can be difficult to get someone in at short notice.
Holiday periods might not match up, meaning that you might be abroad for two weeks, then return home to see the other family going away for the next two weeks, leaving both of you with a bigger childcare bill than before.
Drawing Up a Nanny Share Contract
One way to avoid many potential problems is to draw up a nanny share contract – both with your nanny, and with the other family. The contract should not only take care of basic issues such as salary, paid holiday leave and sickness, but also an exit strategy.
Remember, if one family is no longer interested in having a nanny share, the other family is left hanging. It's best to decide beforehand what will happen in that eventuality, and have strict rules to follow so nobody gets left holding the baby.
Heaven or Hell
Having a nanny share can be an amazing solution to a potentially difficult problem, or it can cause even more problems for already stressed-out parents.
Working mums need extra hassle less than other people, so make sure you only hire a registered, licensed nanny and work out all potential problems with the other family right from the start. Good luck!
You might also like...