Starting a Baby Sitting Circle With Friends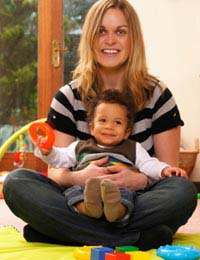 When Tracy Kidston needed a babysitter, she found the price prohibitively expensive. "All the nannies in my area charged £8 an hour, and there were no teenage girls nearby who I knew and trusted," she said.
"I have four children, and was desperate for a night out with my husband. But paying an extra £24 just for the babysitter, on top off a meal out or two cinema tickets and her taxi home, made it not worth the effort.
"Occasionally I'd manage to drag my sister over to spend the night with my kids, but that was rare. We live in London and she lives about an hour away, and it wasn't really fair on her."
Then Tracy started talking to a mum at her kid's school who was moaning about the same thing. "She and I started talking and found neither of us could really afford regular childcare. So we decided to set up a babysitting circle of mums, and occasionally dads, who wanted to trade babysitting.
"As they are also parents I trust them, and they all drive or live locally. I now do it two or three times a month and it's been brilliant. I get to go out, and when I babysit all I have to do is watch someone else's videos for a few hours, then go back home. It couldn't be easier."
Babysitting Circle Basics
Babysitting circles are brilliant for people who don't want to pay the price of a babysitter. They are usually suitable only for couples, as one person will have to stay home with your kids while the other looks after a friend's children.
Setting one up is easy. All you have to do is find a group of parents you trust, then get together and plan how you want it work. Some parents expand their NCT group or local playgroup into a babysitting circle; the advantage being that the children already know the parents involved.
Here are some ideas to get you started:
Only ask people to join who you know well, and who you like and trust. Inviting local parents is also key unless everyone has cars, as it would defeat the purpose if you had to pay for a mini-cab home late at night.
Give give each parents four vouchers when they join, with each one being used for one evening's babysitting. Parents will get another voucher every time you babysit. Alternatively, give each parent six tokens for an hour of babysitting, with hours after midnight costing two tokens. The only way to earn more tokens is to babysit.
Ensure members are serious about joining the circle. For example, say that nobody is allowed to leave the group until they can give back their original four vouchers. That makes it impossible for someone to get four nights' free babysitting and then leave, without doing any babysitting in return.
Set ground rules. You may stipulate that parents have to supply a meal for the babysitter, or have a video and a glass of wine waiting for them. How you do things should be left up to your group.
Every parent joining the circle should print a help sheet, listing things such as emergency contact numbers, children's allergies and where clean bedding is kept.
As you will be working on a system of vouchers or tokens, it does not matter if you babysit for the same person who babysat for you. You will also be allowed to "employ" a babysitter as often as you like, as long as you reciprocate! You might stipulate, however, that members who cancel less than 12 hours in advance will have to pay for a "proper" babysitter.
Resist the lure of inviting too many people into the circle. Start small, then slowly expand if necessary. Having a parent "administrator" who can keep track of vouchers, print new ones if necessary and sort out any possible problems is helpful.
Setting up a babysitting circle is easy, and the advantages are many. You will save money on childcare, and your children will have babysitters they probably already know, and will hopefully look forward to their visits. You will have the added bonus of having a parent you trust look after your children.
Ask around at your local playgroup or school, or simply ask your local friends if they are interested in joining a babysitting circle with you. Once it gets up and running, it is easy to manage – and could revolutionise your social life!
"My husband and I were getting to the point where the only time we spent together was in front of the telly, and it was taking a huge toll on our relationship," recalls Tracy, whose babysitting circle has been up and running for almost two years now.
"Things are much better between us, now that we go out as a couple now and then. And I also get a girls' night out about once a month, which is fantastic!"
You might also like...