How to Find a Suitable Nursery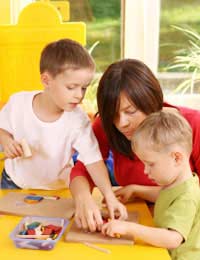 Choosing the right nursery is one of the most important decisions a working mum will ever make. Not only will your children's safety depend on it, but their future academic and social development could also be affected by the care they receive by nursery staff. The goal is to put them somewhere that is clean and safe, but also educational, structured, stimulating – and lots of fun!
Finding a Nursery
The first step is to actually learn what nurseries exist in your area, then narrow them down according to value-for-money, location, type of nursery etc. It doesn't matter if you're a first-time mum, have just gone back to work after years at home, or have recently moved to a new neighbourhood. Finding the right nursery can be stressful – and even a bit scary.
To discover what's out there, you can:
Look online. Many neighbourhood websites provide information about local nurseries.
Talk to other mums. Word-of-mouth is usually the best way to discover not only what childcare options exist, but also to get the real scoop about how good they are.
Contact government organisations. The Schools and Childcare finder (in England) can help, or visit Scottish Childcare or the local Children's Information Service if you live in Wales.
Get in touch with local primary schools. Some have nurseries attached, and they don't always advertise. They offer a more affordable option than a private nursery.
Call specific groups, such as Montessori, the Quaker Church etc. They often don't advertise publicly either, so there might be a hidden gem few people know about.
Signs of an Excellent Nursery
So how you can tell if a nursery is any good? It's often difficult, especially for first-time parents. Here are the basics to look out for:
A solid reputation. In this case word-of-mouth is incredibly important as well, so speak to other parents to see what they like - and dislike - about the nursery. You might also want to check online to see if there is any dirt to be discovered – if so, stay away. Chances are that if your best mate Helen's children loved a specific nursery, your children will too. But remember that every child has his/her own needs, wants and expectations.
An environment that is structured, stimulating and fun. Nurseries are all different, and you want one that suits the needs of both you and your child. If your three-year-old already shows signs of being incredibly academic, for example, one that teaches reading and writing early is great. If Junior prefers playing with dolls, chatting and kicking a ball around to book learning, one that is more relaxed and puts a bigger emphasis on play would be more appropriate.
Staff who are friendly, easy-going, approachable - and who genuinely like working with children. Nothing makes a mum's heart sink more than realising she has entrusted the care of her precious angel to someone who would be rather working at McDonald's. Nursery staff who are friendly, fun and like to chat to both kids and parents is vital.
You want to know that a companionable, willing ear is available at any time, if either you or your child has a problem. It is recommended that half of the nursery staff should be qualified in childcare, at least, and if staff turnover is high, there's usually a damn good reason. Make sure there is an appropriate staff/child ratio based on children's ages as well, and that back-up plans exist in case of staff absence.
Policies, rules and regulations that suit you and your lifestyle. If you need a flexible drop-off or pick-up time, find a nursery that has one. Similarly, if you plan to periodically go on holiday throughout the year at a moment's notice, find a nursery that doesn't mind. Some are a lot more structured than others, so you need a good fit that suits you.
A nursery that shares your own personal views on sleeping, meal-times, snacking and discipline - and potty-training, if applicable. If you're adamant that your two-year-old never takes naps, for example, make sure that's okay with staff. Also, find out if they provide hot meals or snacks, if uniforms are required, and what procedures are in place to deal with an emergency.
Facilities that are clean and safe, with an up-to-date registration certificate. Nothing turns a mum's stomach – and makes her heart sink - more than finding grubby toys, a dangerous outdoor play area or filthy nappy-changing facilities. Similarly, discovering that the "excellent" Ofsted inspection actually took place in 1989 doesn't really cut the mustard.
Getting a suitable nursery is vital for your child's future. Finding one that is fun, educational and affordable, with caring and qualified staff, will allow you to go back to work with complete peace of mind.
You might also like...