Finding a Suitable Childminder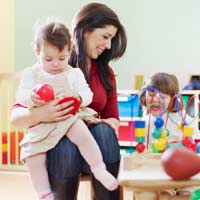 If you can't afford or don't want one-to-one childcare and don't like the idea of a nursery, a childminder is the best option. Your child will have the opportunity to spend the day with other children, yet still receive personal attention. Ideally, the childminder will live near you, and they may be able to care for your child from their early years right through to their teens.
What is a Childminder?
Childminding is currently the most popular form of childcare in the UK. Childminders care for a child or several children in their own home, ideally providing them with various activities throughout the day to keep them busy and happy.
Some childminders care for their own children at the same time – they can be registered to look after up to six kids, including their own. Others have been childminders for decades, sometimes taking care of a child from birth and watching them grow into teens and then young adults as they take on new charges.
Because childminders look after children in their own homes, they are often more flexible about hours than a nursery or creche would be. Often they are able to accommodate younger or older siblings, giving your child the real feel of a home atmosphere.
It is advised to only use a registered childminder as they have to undergo routine Ofsted inspections and prove that the standard of care they provide is up to snuff. They have also undergone police and health checks, and their homes are inspected regularly to make sure they are safe and appropriate for children. Also, by using a registered childminder you may be entitled to tax credits.
To give you additional peace of mind, you might also want a childminder who has a qualification in childcare, and may want to ask if they have taken courses in First Aid. Remember, however, that a qualification is not required. In any case, your gut instinct should be the decisive factor. If you meet with a childminder at their home and feel they are the best person for your child, you're probably right.
Tips to Find the Right Childminder
Ask around. Word-of-mouth is often the best way. A friend's childminder might have openings, or a colleague or neighbour might know of someone who does. Remember that with all childcare, someone right for one child may not be right for yours.
Contact organisations. The Family Information Service can give you a list of registered childminders in your area, or ask your local playscheme or afterschool club for recommendations.
Look online. If you use childcare vouchers you may be able to search online for a list of registered childminders in your area. Other organisations offer online services that provide contact details for childminders in specific areas free of charge.
Start the search early. It's no good looking for that special someone a week before you are due back at work, or three days before the school term begins. You might get lucky straightaway; then again, it may take longer than you anticipated.
Childminder Duties
According to the National Childminding Association, registered childminders:
Take children on local activities, visiting libraries, playgroups, museums etc
Arrange activities for children that are both stimulating and fun, including dress-up, arts and crafts, and attending cultural events
Take children to and from school, after-school activities and clubs
Provide hot meals and snacks, involving children in the food preparation
Help organise group activities with other childminders
A registered childminder is often the best solution for busy working mums who want to ensure that their children have the benefits of a home away from home while they are at work. Since childminders are not attached to a nursery or creche, they are able to provide the flexibility – and personal, individualised attention – that so many mums require for their children.
You might also like...