Questionnaire: Is Working from Home Right for Me?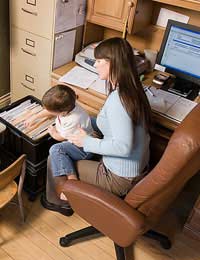 It might sound like the answer to your prayers, but working from home is not always as easy as it may appear. While you can have flexible working hours and be able to take your children to and from school, not everyone can handle the lack of social interaction and need for self-discipline that home working requires.
While some women who work from home are employed by a specific firm, many work for themselves running their own business. Both scenarios require discipline and motivation on a daily basis to keep going and thrive. But that can be hard when you're working alone, sitting in a spare room or study away from the hustle and bustle of the office.
If you are flirting with the idea of working from home – or already a home worker but not sure if you want to return to an office job – take our quiz to see how you add up. You might love spending most of the day in your pyjamas. Then again, you might soon find yourself longing for your old Prada suits...
1) What is Your Working Style?
a) I thrive when I can bounce ideas off others, and love to be part of a group. I work best when I'm in the middle of the action, and love meetings, lunches and dinners where I can network, show off my knowledge and attract new customers/colleagues.
b) Being with others is fun, but not all the time. I work best when I have structured meetings, and then am allowed solitary down time to put my ideas into practice.
c) While I enjoy making phone calls and having brief chats with people, I am aware of how much time is wasted during business "lunches" and meetings. I prefer setting my own pace, with my own timetable, and working on my own.
2) How Much of a Self-starter Are You?
a) I'm not that creative and love it when I am given specific tasks. I also get bored easily, and need someone around to keep me on the right path. Working within a group suits me best.
b) While I can function well in a vacuum, I appreciate people around me to help me keep on track.
c) Nothing gets me more fired up than knowing I have a big workload ahead of me. The more work I take on the merrier, I am well-disciplined and can work long hours without distractions.
3) Do You Usually Think Independently, Coming up with Creative Ideas on Your Own?
a) No way! I believe that brainstorming as a group is the most effective – and by far the most productive – way to come up with a plan.
b) It can be fun coming up with new, creative ways of doing things with other members of the team, and usually my best ideas come about that way. But I also like working independently.
c) While I can take on other's ideas, I work best when I'm alone. Having the time and space to think – away from colleagues, and away from the kids – is my idea of heaven, and when I am usually the most productive.
4) How Easily Distracted Are You When You Work?
a) When I'm in an office I usually work well, although during sunny days you can often find me having a drink in the pub garden. At home the sunny deck, fridge and daytime telly programmes often call to me, rather loudly...
b) I can usually stay on track, but not always. While I might put a load of washing in or unload the dishwasher during a short break, on the whole I work fairly well.
c) I have set up my own home office and nothing can make me veer off course.
5) Are You Well-organised?
a) As long as I have my secretary, the office manager and my boss to keep track of things for me!
b) Usually yes, although sometimes I have to call in someone to help me keep track of things...
c) Of course. I can juggle well, and can keep track of appointments, meetings, interviews and basic work perfectly fine by myself.
How Did You Do?
Mostly A's If your colleagues define you as a social butterfly, they're probably right. Although you may like the freedom that working from home could give you, you crave social interaction, office gossip and regular ideas meetings with other people.
Mostly B's You could enjoy working from home, but would probably feel a bit isolated if you did it day in, day out. A job that would combine working from home part-time with plenty of meetings outside the office would be best.
Mostly C's You are ideally suited to working home, being a self-starter with lots of discipline who can manage a tight schedule, be consistently creative and meet deadlines on your own. The freedom that home working gives you comes with other responsibilities, and you have taken them on well.
You might also like...