Single Parent: Child Holidays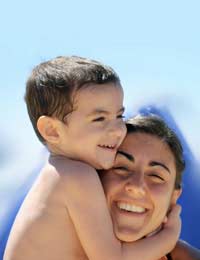 Going on holiday as a single parent can be stressful. Travelling solo with children can be both difficult and expensive, and lonely evenings in your hotel room with a glass of wine while your young ones are tucked up in bed can be a depressing experience. Luckily, there are several ways to make one-parent family holidays a lot better, and hopefully have you and your children scrambling back for more...
Heavenly Holiday Ideas
There are several tried-and-tested ways to make your holiday successful, and leave your child or children with memories for years to come (good ones, that is!):
Go with a friend. If you want to avoid miserable evenings watching other couples have fun and having to talk to complete strangers, travelling with a friend is always a good idea. Another mum with children of similar age is ideal. Make sure the kids get along well before you go, and choose somewhere that is of interest to both families. Remember, it's better to go on holiday with just a two-year-old than with another adult you can't stand, or to spend all week watching your kids bicker with her kids.
Join a single-parent holiday programme. If you have young children, this is an idea that really works well. Enquire to see if you can join a group with kids of similar age, and hopefully you will find like-minded parents as well. Group holidays are always fun with small kids around, just make sure you plan on one centred around an activity that you all will enjoy. Look online to see what's available.
Go on an activity holiday. Activity holidays, whether with other single-parent families or simply in a group, are a great way to meet people, especially if you are travelling with teens. If your teenagers are out and about in the evenings, the last thing you want to do is to be on your own in a restaurant, nursing a G & T and a plate of soggy chips. This way you will have someone to talk to, and the daily activities will ensure that everyone is kept busy.
Take a family member along. Having someone you know and trust with your children can not only be fun for them, but can give you a well-deserved break as well. Grab your sister, mum or a cousin - hopefully they'll enjoy the experience as much as you will.
Tips to Make or Break the Holiday
Single-parent holidays can be fantastic, with just a little preparation. Plan ahead, have an itinerary and make sure you travel only with people whose company you know both you and your child or children enjoy. These tips can also make your holiday fun and hassle-free:
Budgetary considerations are often an issue. Find out beforehand if the hotel/resort/club will charge your child the adult rate, as most places charge prices based on double occupancy, with two adults sharing a room. Single parents often get socked with extra charges, which is why places that specialise in one-parent families are often much better deals.
Look for resorts that offer large, family-style restaurants with larger tables that encourage other guests to sit together. Smaller places will offer people the best opportunities to chat and not feel uncomfortable for not being part of a couple. Inclusive resorts are often better value for money, contrary to what you might think.
Holiday rentals are good ways to save cash. This can be especially beneficial financially if you choose to travel with another single-parent family, as you may only need one room each and can share an apartment or cottage. Look online for special deals.
If your child has a different surname than you, you may need an authorised letter to take him or her out of the country.
Don't resent going on holiday with just a three-year-old for company. It might seem tiring – and tiresome – for you, but the bonds you make with your little one will be worth it. If you want some adult company, remember that the travel industry now caters to single parents more than ever before, and if you look around you are sure to find a package or hotel that suits your needs.
You might also like...
I've never worked for many many years no qualifications no self convidence,I live ein Peterhead Scotland I'm so embarsednow 47 with a 4 year old all want is for my little girl to have what she needs and a little extra to treat her is there any groups around this area
Cindy alexander
- 27-Nov-17 @ 6:52 AM
Sez - Your Question:
I am new to this website and was looking for sum kind off group for single parents. Can anyone help I live in central London?
---
Our Response:
Gingerbread is the obvious, link
here
. However, Meet Up, also may work for you,
here
. I hope this helps.
AWorkingMum
- 29-Sep-15 @ 11:10 AM
I am new to this website and was looking for sum kind off group for single parents. Can anyone help I live in central London?
Sez
- 28-Sep-15 @ 8:53 AM