Having a Job Share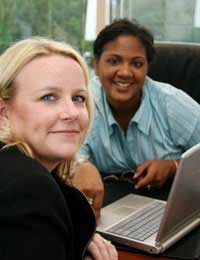 For people who don't want to work full time in order to improve their work/life balance, a variety of options is available. One is job sharing. That is when two people, and occasionally more, share one job. In practical terms, that means they divide up the responsibilities, hours and benefits according to how much each of them works.
Job sharing can manifest itself in different ways. You can work different hours, different days or even alternate weeks. You can also both work at the same time, if you so desire. The crucial component is that you are doing one job, together.
Having a job share can be a fantastic solution for people – especially working mums – who do not want to work full time and/or prefer perhaps to do the childcare themselves. But it's not for everyone, especially as it requires a great amount of cooperation, coordination and communication between the people involved for it to work well.
Types of Job Sharing
Flexible working regulations mean that employers have to look seriously into job sharing propositions, and should have a legitimate reason for refusing a job share proposal.
There are three main types of job sharing, which one is best for you will depend on a variety of factors. They are:
Shared responsibility. This for some people, is the best type of job share around – although it can also go terribly pear-shaped. It is when both partners are equally responsible for sharing all the responsibilities of the job, and will only work well when the two partners are well-matched and both devoted to communicating with each other on a regular basis.
Divided responsibility. This can work when the two partners have a job in which it is easy to divide up specific projects, or specific client caseloads. Each partner will work individually on the project they have been allocated.
Unrelated responsibility. This is kind of like two different jobs running concurrently within the same focus group and works well when people have completely different skill sets.
Would You Do Well in a Job Share?
If you are interested in a job share, you will need to think long and hard about whether it is really the working solution for you. Although the benefits of working fewer hours are clear, especially if you have children, managing a job share can be tricky and can sometimes lead to disappointment.
Ask yourself the following questions to see if you are a suitable candidate:
Do you work well independently, or do you prefer to work alongside others?
Do you have effective communication and coordination skills?
If you started a project, are you happy to let others finish it?
How flexible are you? Can you readily accept other ways of doing things?
Can you handle it if someone else takes the credit for the work you have done?
Advantages and Disadvantages of Job Sharing
For working mums, the benefits of job sharing are obvious. You will work fewer hours, and hopefully be able to plan a working schedule with increased flexibility that will enable you to spend more time with your children. While you will earn less than you would in a full time job, the money you may save on childcare could even things out.
Employers find that employees who job share have a reduced level of absence, are more devoted to their jobs, and have increased productivity. They are also able to retain skilled staff, who might otherwise leave if their requests for flexible hours were not met.
But not every job is compatible for sharing, and some people who job share might find that their managers give them twice as much work, seeing as there are two people on the job. They might find they are not compatible with their job share partner, so it should be stipulated from the beginning whose responsibility it would be to find a replacement, should the need occur.
Still, for most people, a job share is the answer to a prayer, giving them the work flexibility they need to achieve a better work/life balance. If you are interested, talk to others who currently job share themselves to find out more about it first-hand, and see if you really want to take this life-changing step.
You might also like...