Working From Home: A Case Study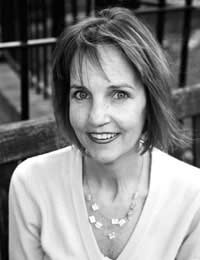 Delia Lloyd is used to high pressure, but now that she doesn't have it any more she doesn't miss it in the slightest.
After Delia had her two children – Isaac, now seven, and five-year-old Allie, she worked full-time as a producer at Chicago Public radio.
"I produced a daily talk show. It was a very frantic, high-pressure job and it was very hard to balance with kids," says Delia, 42, who moved to north London two years ago.
"Everything was fine unless something went wrong, like the children getting ill or having an asthma attack," she recalls.
"Even when I was ill myself I had to work from home because I had a daily deadline to hit, and I had to hit it. It was very challenging with two young children."
Reducing her Hours
But when Delia moved to the UK after her husband got a new job as a lecturer at London School of Economics, she saw an opportunity to both reduce her hours and spend more time with her children - and realise a lifelong dream of becoming a writer.
She now works from home, writing fiction novels and non-fiction articles for newspapers. And she plans to launch a blog in 2009.
"I love writing, I am the happiest and most fulfilled when I am writing. But I do miss the office life, as someone who likes office politics and water cooler politics and karaoke nights," Delia says.
"But I have to admit that as someone who now works only from home, I still feel a pang of nostalgia when friends talk about office life."
The Write Choice
Despite that, Delia knows she made the right choice. "Writing makes me happiest, which is why I do it. The downside is that I really miss the social side of an office as I am very outgoing, unlike many writers who are not."
However, Delia now has a lot more time to spend with her children – and she can now fit her schedule around them, instead of the other way around. Delia's husband also has flexible hours unless he is teaching, so he can often do the school run.
"He was very much behind my career move to working full-time, I probably wouldn't have done it without him," Delia admits. "I am much more risk-adverse and probably would have got another job, but he encouraged me to experiment with my creativity."
His encouragement had made an enormous change in the life of the entire family.
Involved in School
Being part-time has other benefits as well, ones that are not so obvious. "When I was full-time, I never went on any school trips. Isaac had them all the time at his nursery and I never go to go on any of them," she says.
"In my new life I am very active in the PTA, which easily folds into my part-time schedule at home.
"I think my kids love that I am very involved in their school. That is something that was precluded by my previous schedule. And being active on the PTA has fulfilled both a social and administrative function in my life, which I desperately need.
"I love to run projects, and I don't get to do that any more unless I am active in the PTA."
There are other advantages about working from home. "I don't need to dress up any more, which is nice, so I spent half of my day in my yoga trousers," Delia says.
"I don't have to spend money on commuting or clothes, and unlike my previous job, when I don't feel well I just take a sick day, because I can."
You might also like...