I'm Working Part-time and Having My Fourth Child!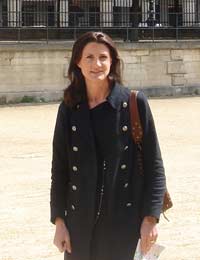 In the past six years, Vendela Wiberg has given birth to three children. Now, the 36-year-old is expecting her fourth – and credits her flexible part-time working schedule for keeping her sane.
"It's difficult with the kids. But in a way I feel fortunate that I'm able to have my own business and work from home," says Vendela, who runs a home business called Promise Sweden Jewellery with her older sister, Vibeka.
"The most important thing is that I can choose my time to work. For example, in the evenings I can put my kids to bed and then send lots of emails, do research and buy online from home.
"I also have a baby-sitter who comes two days a week, she helps with the kids so I can go to meetings or I can go to design or buying courses to learn more."
Bring on Number Four!
Vendela, who lives in north London but is originally from Sweden, currently has three children: Benedicte is six, Balthasar is four and Bentley is two. In September she'll have her fourth child, who most likely will also have a first name beginning with "B".
"It can be a hard juggle as you are never 100 per cent somewhere at any given time. I feel like I always have a child in the background," Vendela says.
"You have to be quick with your time and structure your days properly. When I do that, it works really well. It might not work for everyone, but it works well for me.
"I want to put family first but I like having a business on the side too, it makes me feel stimulated and I feel as if I am striving to achieve something."
Combining Different Jobs
Vendela's main job is the buying aspect of the business, while her sister is chief designer. She buys silver, gold and semi-precious stones – often online – and also does all the research and PR. Both she and her sister do sales together.
So far, the jewellery business has been a big success, with celebrities such as Emma Thompson, Melanie Sykes and Gwyneth Paltrow all satisfied customers.
Vendela says that having a varied job with numerous different responsibilities has been good for the kids as well. "They see what I do, they are often there when I am talking to people or when celebrities come over. It's good for them, I try to involve them in what I do.
"If I went to an office very day it would be different, they would not really know where I am."
Difficulties When Pregnant
Being pregnant again does have its own difficulties, but Vendela, who's already well into her fourth month, says her job flexibility makes things all that much easier.
"Being pregnant can be hard. Sometimes I still wake up really nauseous and really tired," she says. "But it's good I can be flexible. If I wake up feeling like that I can reschedule a meeting set for that day when I feel better.
"The next day I usually feel better and more energetic, and I'm able to prepare more and get things done."
Vendela's husband Marcus, also 36, works in finance and is a bit jealous of the flexibility his wife enjoys, Vendela says.
"He is happy with what I do and happy that I am able to have a flexible workload with the kids, as he cannot. He would dream in the future of having a more flexible job like mine!"
He was able, however, to get a few days off, and this Friday he, Vendela, and the oldest, Benedicte, are flying to Rome for a three-day weekend. The two boys will stay with their baby-sitter, whose days Vendela has re-arranged to accommodate the trip.
"I've never been to Rome, and I'd love to see it before I have Number Four," Vendela says. "And it will feel really easy being with just one child!"
You might also like...