I Went Freelance After My Second Child: A Case Study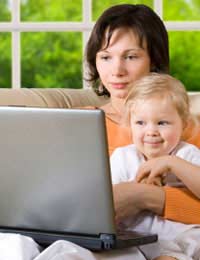 During her single and carefree days, Molly Jones had a job she adored. Working for a local magazine in her native Manchester was fun, and Molly actually loved waking up for work in the mornings.
But when Molly moved to London and started working full-time in the art department of a national magazine, things weren't so much fun anymore. Her boss was very strict, and Molly felt a lot of the creativity was disappearing from her profession.
"Instead of dreaming up unusual and creative ideas, I felt we were only striving to reach marketing targets," says graphic artist Molly, who's now 38. "It seemed that the only thing that mattered was being the best-selling magazine. And when I told my boss I was pregnant, I could tell she was less than pleased."
Long Maternity Leave
Molly had mildly high blood pressure, and so went on maternity leave a full month before her son Benji was born. "I had been taking quite a bit of time off for ante-natal appointments, so I think my boss was glad to see me go," she recalls. "Although for legal reasons she never said anything to my face, it was obvious she thought I was turning into a slacker."
Molly took eight months off, then went back to work. "It was hard but I had childcare by putting Benji into a nursery near my office, and saw him during lunch at least three times a week," she says. "It really was the best of both worlds.
"The only problem with the childcare was that I had to leave right before 6pm to pick him up no matter what, which my boss wasn't that thrilled about – even if I worked through my lunch to make up for it."
Pregnant For the Second Time
When Benji was almost two, Molly got pregnant again. This time, she dreaded telling her boss the news. "I actually happened to be the third woman in the office who had announced her pregnancy that week, so my boss nearly hit the roof. And I had really bad morning sickness, dry-heaving in the loo and feeling dodgy most of the time.
"I made a little calendar and was literally counting off the days with red pen until I could go on maternity leave. When I did, it was like a huge weight had been lifted off my shoulders.
"I moved Benji to a nursery near my home, and after that I think I knew there was no way I was going back. The fact was, after I paid for full-time childcare for two children, plus commuting to and from work, lunches, work clothes etc, it was hardly financially worth it anyway."
Part-Time Work
When baby Angela was five months old, Molly started looking for freelance work, just to test the waters. "I hadn't officially said that I wasn't going back, but I wanted to see how easy it would be to find work.
"Amazingly, a friend had started her own local magazine for mums, and asked me to be art director. The first issue sold really well, and suddenly I had a part-time freelance job – from home. It was perfect – so I rang my boss and told her I wasn't coming back."
The job only lasted eight months, but it prompted Molly to start looking for more freelance work. "I now work a lot as a self-employed freelancer, and the money isn't that bad, considering Benji is now in school full-time and I only pay for part-time childcare for Angela," she says.
"Clients come and go, and although I have had a few dry spells it's all worked out in the end. Because of the economy some of my best clients have had to stop commissioning, but something else always turns up.
"I subscribe to several online jobs sites that use freelancers, and when I have downtime I spend a few days sending out CVs and looking for new work.
"My partner Rob, who works as a sound technician, knows that if one of the kids is ill or if he has to travel for a few days that I can always be counted on. And as his income is constant, we always have something coming in.
"Because I'm a freelancer the kids have a mum they see a lot of, even if occasionally I have to go into an office. I can watch them grow up while still bringing in an income and doing something creative. Like I said, it really is the best of both worlds!"
You might also like...