Why I Prefer Nursery to Nanny: A Case Study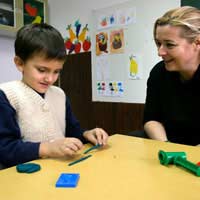 Video producer Gloria Wallace always wanted to have children, but she knew that she would continue working at her much-loved job no matter what. So when she had her first child Anna, who's now 10, she sent her to full-time nursery when she was still a baby.
"It was never a question of whether to hire a nanny or send her to nursery," says Gloria, 41, who lives in Fulham, west London. "I always thought a nursery would be best, even though it meant not having the late-night hours. But as my mother-in-law was around and willing to help, we thought we could cope with that. "
Anna loved her nursery, and Gloria never worried about her when she was working. "The most important thing, of course, was that Anna was happy. But I also think she learned a lot more from being at nursery than she would have with a nanny," she says.
"Your child learns from an early age to interact with their peers at a nursery, they learn about sharing, about having to wait their turn. Those are about the most important social skills they can get.
"A nanny will always have one-on-one attention for the child, but the children don't have the opportunity to interact much with others, especially with kids their age, but also with other adults. That's not what I wanted for my daughter."
Nursery vs Nanny
Gloria also preferred sending Anna to nursery because it gave her complete peace of mind. "From a practical point of view, if the nanny becomes ill or if she's got something else she has to do then you are stuck. A nursery only really ever closes under exceptional circumstances," she says.
"Also, nurseries have better social control, and you know your children are well looked after. If your nanny turns on the telly five hours a day and isn't really looking after your child properly, how will you know unless you have a nanny cam?"
She adds that the fact there are other people working at a nursery means the childcare workers can't really get away with not doing their job. "There are always other people watching how they are working and how they are interacting with the children," she says.
"They will let their colleagues down if they don't do things the way they should, and it's unlikely your child would be completely ignored."
Safety Aspect
Nurseries are also safer overall, Gloria believes. "The nanny could faint and you would never know, she could be stung by a bee and have an allergic reaction, anything could happen to her. If anything happened at the nursery there are always people there to jump in and deal with emergencies," she says.
"Also, if the nanny neglects or abuses your child it's a lot easier to get away with it than it would be at a nursery. Nurseries have a lot to answer to, and if you do your research and only send your child to one with an excellent Ofsted report, chances are nothing untoward will happen."
She adds that nannies also can get too close to a child – and vice versa. "A nanny might have certain habits that your child would get used to, and it's very hard if you come home and you do things differently. Also the child can become too attached to the nanny, especially if they are very young, which can be hard, especially if you're a first-time mum.
"And, my husband wants me to add, you can also be worried that your nanny will run off with your spouse!"
Nanny in the Short-Term
When Gloria had her second child - son Freddie, who's now seven – he had a nanny for a while before starting nursery. "We moved and couldn't get him into a nursery at first, so he had a combination of my mother-in-law and a nanny looking after him," Gloria says.
"He had all the attention focused on him, and every one of his wishes would be immediately granted. While both did a phenomenal job looking after him, he became used to all the attention and got spoilt. That would never happen in a nursery because of the sheer numbers of people."
The nanny was too expensive, and when a nursery place became available Freddie moved there. "He hated it at first because he was used to all the one-on-one attention, but he gradually got used to it," Gloria says. "And I think it made things a lot easier on him when eventually he started school."
You might also like...