My Partner is a Stay at Home Dad: A Case Study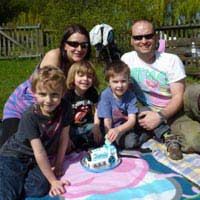 When Sarah Whitby first found out she was pregnant seven years ago, she knew who would be doing the bulk of the childcare: her partner David Eastwood.
"We thought about what would be the best thing to do. At the time, David was working in retail, and not earning a huge amount of money. Basically, his salary would have been just enough to pay for childcare," she says.
"I was earning more than he was, running a pub in north London, and the flat came with the job. We also preferred one of us to look after the children at home, so the choice was made."
Sarah, who's now 35, now has four children, aged three months, three, five and six. Although she's now temporarily on maternity leave, her partner David has become a full-time stay-at-home dad.
Long Working Hours
"My working hours vary enormously. Some weeks I can do 100 hours, some weeks only 30. It all depends on what the staff situation is, if some are on holiday, if some are sick, if we are just short-staffed," says Sarah.
"On a typical day I can work anything from 8am all the way through to 1am. Other times my working hours can start at 5pm in the evening and end at 5am in the morning.
"When I am at work I am at work, and I do not get involved with the kids at all. David will get them ready for school, be with them all day and then put them in bed.
"If I am working just 9am to 5pm, however, I will get up with the kids and help put them to bed, and be there to give them a bath. It all depends on my schedule, but I know David is always there with them."
Cooking and Cleaning
Sarah says that as a stay-at-home dad, David does about 90 percent of the childcare, as well as all the cooking and most of the cleaning. He is, she says, not a bad cook.
"I wouldn't say he was particularly great at cleaning, but that's a different story," she laughs.
"I tend to do most of the tidying and he occasionally puts stuff in the washing machine, but on the whole he does everything."
Bring Out the Boys
As Sarah and David's three oldest children are boys, she says that they have really benefited from having a stay-at-home dad.
"It's been great for them having their dad around all the time. They do boy things, they climb trees, play football, they go out and about.
"When they go out to Hampstead Heath they have to name the bugs, and when they don't know what it is they have to look it up in a book. If it was me, I would not have much of an interest.
"That is a huge benefit for the kids, definitely. And holiday times I'm around for them, and on my days off I'm around. And David does get a few evenings off, sometimes!"
Experience with Children
She adds that as David has 15 cousins, the youngest being about ten, he grew up learning how to take care of children.
"All his life he has had lots of experience with children, lots of kids, so it wasn't a difficult decision really, to make him a stay-at-home dad. And he was more than happy to do it.
"The main thing to me is that because David's a stay-at-home dad, the boys always have their dad around, which is a real bonus to them.
"It sometimes is hard for me having to go off to work and not being with them for the day, but knowing they are with their dad makes it much easier."
You might also like...