Being Pregnant at Work: A Case Study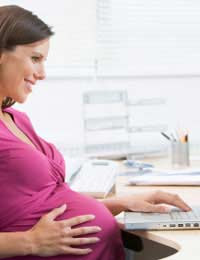 Jennifer Smithson was thrilled the first time she got pregnant – but she hid her growing tummy from her bosses as long as possible. "I tried to conceal my bump for as long as I could," says Jennifer, 43, a business executive from south London, whose son Callum is now nine and daughter Noelle four.
"I had just been transferred to a new position in my company and I thought they would be upset, so I let it go until I was four and half months' gone. I was very big at that point and when I told my immediate boss he pretended to be shocked, but I didn't really believe it," she says.
"I was really paranoid that they wouldn't be very happy about my pregnancy, but it was fine in the long run. My boss didn't seem to mind at all and things went very smoothly overall."
Work Stress at Home
But while Jennifer's relationship with her boss didn't suffer because of the pregnancy, her physical state did. "The pregnancy was fine as far as the important issues were concerned and I never threw up, but I suffered these extreme, monster headaches," she says. "I could only take paracetamol, so I just soldiered through with massive headaches all the time."
Things were made worse because her work colleagues would call her at all hours, when she desperately needed sleep. "They used to wake me up at 5, 6 o' clock in the morning with work stuff," Jennifer recalls. "It was a nightmare, waddling downstairs to get the phone. I was constantly on edge and felt that I never got a good night's kip.
"And after work I was expected to join in as well, when all I wanted to do was go home. I couldn't go out for drinks after work because of smoky pubs at the time. And when I used to go out for business lunches everyone drank, and I had to pass."
Despite feeling tired and stressed, Jennifer worked right up until her due date, because at the time maternity leave was only about four and half months. "I wanted to stay home with the baby after the birth for as long as I could, so I worked as long as possible beforehand. But then I was two weeks overdue, so I sat around at home doing nothing!"
Second Time Around
With her second pregnancy Jennifer had a different boss, and once again she felt compelled to hide her growing bump. "I had a different boss by then and didn't tell him about the pregnancy until I was almost four months again. I wasn't big by then so it wasn't obvious, but because of the pregnancy hormones I threw my back out and literally could not stand up straight.
"It was a lot worse than the first time. I was in massive pain and still had those horrific headaches, and to add insult to injury, I could barely stand up."
Jennifer finally told her boss the news, and things went from bad to worse. "In the summer they dumped a huge load of work on me, and I became embroiled in a very stressful situation. I made a small mistake at work, which was more a colleague's fault than my fault, and the whole thing blew up in my face.
"Basically, someone made a decision based on what I told them I without taking further steps to clarify things, and I was the one who got in trouble as a result and got yelled at. I was very stressed, which was not a good thing to happen in your second trimester, and was working 12-hour days.
"By that stage in the pregnancy I felt fine physically, but I was very tired and suffering from stress."
Unfairly Discriminated Against
Jennifer had her review right before she went on maternity leave, which again was on her due date. "Again I worked right up until the end, but they gave me only a one percent pay rise even though I was probably the most productive member of our team," she says.
Although she can't prove it, she feels she was discriminated against because she was about to go on maternity leave. "I told them that I was going on leave and that the reason I had worked so hard was to get a nice pay rise before I went. So I was not very happy about that," she says. "But, in the end, there was nothing I could do."
Jennifer's advice to pregnant mums at work? "Unfortunately you have to work twice as hard to prove that somehow you are not slacking off," she says. "If you have to take time off to have ante-natal appointments, make sure you get all your work done so they can't use it against you.
"While every woman's situation is different, my experience wasn't a positive one. That's just the way the world of work is at the moment."
You might also like...