Working Part of the Week Abroad: A Case Study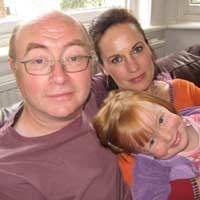 Three years ago, Ruth Webb began teaching classics at a university in Paris. As she lives in north London, the new posting meant she would commute two days a week to the French capital.
With the convenience of the Eurostar train service, making the journey every week was not an incredibly big deal. But it meant leaving her daughter Rachel, now six, behind.
"I used to have to sneak out of the house early in the morning and try not to wake her up. Once she was awake, she'd realise I was leaving and frantically try to cling on to my coat," says Ruth, 45, who has a Ph.D. in classics from London University.
"But soon she got used to my leaving, and every time I went away I'd bring her back a little magazine or a treat, so she'd almost look forward to my departure."
Having Daddy Step In
Ruth's partner, Paul, is a novelist who works from home, so he was able to take Rachel to school and pick her up when Ruth was away.
"I wouldn't have done it if I had to hire a nanny," says Ruth. "I think it wouldn't have been fair on Rachel to have her mummy away for several nights, and to also have to spend time with a stranger.
"But being away also means that Paul and Rachel have time just for the two of them. When they're little the default parent is usually mummy, so it's nice that Rachel spends so much time with him as well.
"And the days that I am in London I can pick Rachel up from school, and be with her in the afternoons."
Concentrating on Work
Ruth is the first to admit that there are some advantages to not being home all the time, although she misses family life. "I have to say that it does work well to have two days just to focus on work, and not have to worry about wiping a child's bottom or washing clothes and preparing meals," she says.
Ruth also enjoys having the chance to live in two different worlds, not just the glamour of Paris but the intellectually challenging academic world that a university job offers.
"In general, having a research job means that when you have a baby you don't have to stop work. You are always thinking about your latest research project, so you never have a total break. But on the other hand you can have a small child and still remain intellectually active and engaged with your work."
Different Values
The fact that Ruth works in France as opposed to the UK or the United States also makes a difference, she says. "The French value their work-life balance and have managed so far to preserve it better than we have in the UK," she says.
"They don't expect people to work non-stop. They expect people to be parents, to have children and family and to want to spend time with them, to value the work-life balance. Most of my colleagues have children, they usually have them much younger that we do, and they manage to spend a lot of time with them."
Rachel, for her part, says that having her Mummy work in Paris for part of the week isn't such a bad idea. "She gives me pocket money or a treat when she gets back, but the bad thing is that I don't see her that much when she goes away," she says.
"I miss her a lot when she's gone. It's very nice to see her when she gets back."
You might also like...