Juggling Family and Full Time Work: A Case Study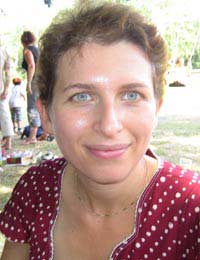 When Polina Ivanova got a full-time job as a research associate at a London university, she had no idea how much work it would entail. And how much time it would take away from hours she would rather be spending with her eight-year-old daughter, Hannah.
"I don't work half as much as I should to advance my academic career," admits Polina, 33, who lives in London but is originally from Moscow.
"I don't publish as many pieces as I should publish, I don't go to as many talks I should go to, or attend enough research activities.
"Because when school is over for the day, I would much rather be spending that time with Hannah."
Flexible Hours
Polina says she is lucky that she can juggle family and full-time work, mainly because she works flexible hours. Her contract stipulates that as long as she puts in a minimum of 35 hours per week, it doesn't matter when she works.
"I work at night and at the weekends. I work odd hours in general, rather than work between nine to five," she says. "My job requires me to deliver specific projects, so as long as I do that on time I can more or less work which ever hours I want.
"I also can very often work from home, so I save a lot of hours that I would normally spend travelling or commuting to work."
Time with Hannah
Her job flexibility means that Polina usually takes Hannah to school and picks her up, although she sometimes trades off with another mum – when her daughter has ballet lessons, for example. Hannah stays at the after-school club once a week until 6pm, and has dance club after school another afternoon.
"My husband works in a bank, so in a pinch he can pick her up – when I am travelling or at a conference – but usually he has to work later than that," Polina says. "But it's hard to juggle family and a full-time job can be a strain. I feel I am always being pulled in two different directions."
She travels abroad a lot – last year she reckons she spent ten weeks overseas, to places like Vietnam and Finland. "When I travel I have friends who look after Hannah, as well the after-school club and my husband,'" she says. "The childcare situation is fine."
"I used to employ a nanny part-time but now that Hannah's older and has so many after-school activities it's not really necessary anymore to get formal childcare.
"I enjoy the travelling, and Hannah is fine about it. I think she misses me but not as much as other children do when their mums travel.
"She has a great time with just my husband and I think the two of them have loads of fun without me when I'm gone. They have a great relationship, and I don't think she suffers too much when I'm away."
Changes Afoot
Despite that, things might change in the near future. "My current contract is for 18 months and my next one is for 12 months. I might start working part-time because then I can spend more time with Hannah," Polina says.
"It wouldn't make a lot of difference to my career if I worked full or part-time, and I would feel more relaxed if I only worked part-time as I always feel guilty that I'm not working enough.
"If I didn't have a family or Hannah I would have done a lot more for the job, so working part-time will make me feel better with the hours that I will put into it."
You might also like...