Asking for Help with Childcare or Work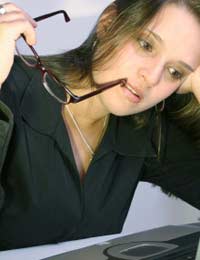 We all strive to be superwomen but let's face it, we aren't. In fact, few working mums can get by completely on their own without ever asking others for advice, and there's nothing wrong with that. When we have so much to do that the days ahead seem insurmountable, the best thing to do is ask for help. You may feel like asking someone else for a favour is a sign of weakness, but it's actually a sign of maturity – and strength.
We all find it difficult to request assistance from colleagues or friends, whether it be difficulty understanding a work task or trying to find childcare to cover an important evening meeting. The result is that sometimes people stall projects for days without starting them because they don't understand something, and end up having to take weeks off when kids are ill instead of nipping their illness in the bud by taking a day or two off to be with them early on.
The solution is easy: tackle problems early before something minor turns into a crisis, by getting help as soon as you realise you need it. Remember, mountains can easily turn into molehills, so nip problems in the bud before they snowball into something bigger.
Asking for Help at Work
Many people, especially women, believe that asking for help at work will be interpreted by their colleagues as sign of either stupidity or weakness. In fact, the opposite is the case: not getting the help you need can actually be career-threatening. Here are tips on the best ways to ask:
Keep in mind that asking for help at work does not mean surrendering all control to your colleague. It means getting over a temporary hurdle so you can finish what you're doing and move on to the next project.
Be straightforward about what your needs are, and be as upfront as possible about your time frame. Let your colleague know what you need but avoid the temptation to micromanage every little detail.
Try to make your request in person and in private. Don't send an email or call your colleague on the phone – especially if they sit two desks away! This may be interpreted as a reluctance to ask them - or even that you are too embarrassed to make the request in person.
Don't ask someone for help who will make you feel indebted to them forever. There is no use changing the nature of your relationship into a patronising one.
Say thanks when the agreement has been made the deal has been done, but don't overdo it. Buying someone a dozen roses because they helped you make a flow-chart for half an hour is a bit OTT.
Asking for Help with Childcare
Everyone needs help with childcare from time to time, but the trick is to be gracious. Follow these tips and you can't go wrong:
Everyone knows the mum who refuses to hire a childminder, and instead asks every other female in the schoolyard to bring her child over for a playdate. It's not only unfair on the kid, it's unfair on the other mums. So make it reciprocal: if you pick up Milo from school next week, I can pick up Miranda the week after. Don't let yourself fall into the position of always being the taker.
Pick up on other people's cues. Is Billy's mummy appear thrilled to have Junior over, or is she barely able to grunt out a disgruntled yes? If she doesn't want to provide childcare for your little darling, don't bully her into it.
Offer money. Many mums who don't work – and even those who do – are short on cash. If they regularly provide childcare while you look after an important project, why not make it worth their while? If they won't accept cold cash, a nice gift won't go amiss.
Building a Support Network
Having a strong support network, both at work and with other school mums, is the best way to get the help you need. Easier said than done, but when you know people as individuals instead of simply "the boss" or "Janey's mum", it's easier on you when the chips are down.
See if you can show up at work a little late and have a coffee morning with the other mums, or invite other mums or colleagues out for a drink next Friday. People are much more inclined to help you out when they know you as a person – and hopefully genuinely like you as well. If you build up a good support network now, you'll get all the support you need later. And you might even enjoy it!
You might also like...