The Importance of Keeping Fit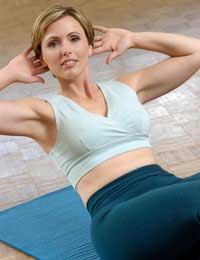 If you're a working mum, you know how hard it can be to juggle everything in your life. Working full or part-time whilst looking after the home and children is incredibly difficult and can make spending quality time with your husband or partner close to impossible. It's no wonder that for many busy women, looking after yourself usually becomes last priority.
But it shouldn't be that way. Studies have proven that women who feel better about themselves with healthy self-esteem are happier, perform better at work, and are more able to look after others successfully. That's why regular exercise – combined with a balanced diet - is so important.
Keeping fit not only makes you look and feel good but it also helps you feel better mentally and emotionally, helping you keep up your busy lifestyle. Exercise is not only good for your health and body shape, but it also acts as a fantastic stress reliever. In fact, psychologists have found that exercise can be as successful as psychotherapy or medication in treating depression.
Exercise for Life
Mums need to stay in shape even more than other people. Keeping fit:
Allows you to chase your children when they're small, play football with them with they're a bit older, and not embarrass them when they're teenagers.
Gives you the opportunity to have time to yourself, away from both work and the pressures of family life.
Allows you to be at your best, to care for your children better and longer. In fact, regular exercise has been shown to decrease the risk of heart disease, stroke and various cancers, lower blood pressure, reduce diabetes-related problems, boost the immune system and help keep up bone density.
Helps teach your children the importance of involving exercise as part of a healthy lifestyle, and having a healthy mind and body.
Is vital too as a frustration release and to improve your self-esteem.
Making Time to Keep Fit
Busy mums often complain that they simply don't have the time to keep fit. In a way, that's true: once you have children, fitting in that class at the gym or having the time to leisurely stroll to and from work often becomes impossible.
But formal exercise at the gym isn't necessary. Instead, why don't you:
Walk at least part of the way to work. Take the tube or train and get off one stop early, then slowly increase it up to two stops. It might not seem like much, but it you stroll briskly 15 minutes to and from the office that's an extra half-hour of cardiovascular exercise helping to keep your heart health.
Invest in an exercise DVD. It doesn't have to be the latest Spandex-clad 18-year-old – you may even want to dust off that old Jane Fonda video that's been sitting (unopened) on your shelf for the past decade. Build up a routine you like in the privacy of your own home, at whatever time in the day suits you. Jane's 70 now and she looks great!
Leave the car at home. You'll be surprised how easy it is to get used to walking longer distances, and it's better for the environment as well.
Swim while they do. Instead of having a cuppa with the other mums on Saturday mornings while your kids have their swimming lessons, spend the half hour doing laps. You'll be amazed at how great you feel once you get into a comfortable routine. If you have to go to the pool anyway, there's really no excuse.
Break out your old records and dance! Kids love music and if you're not too much of an embarrassment, they'll love to boogie down with you. Fifteen minutes a few times a week will get those endorphins flowing and your children will love it. Who knows, maybe your partner will even join in...
Keeping fit through gentle, regular exercise can enormously help your weight, shape and health, but also have far-reaching emotional benefits. Making exercise a part of your daily routine should be a priority for each and every one of us.
You might also like...