Taking up a Hobby as a Working Mum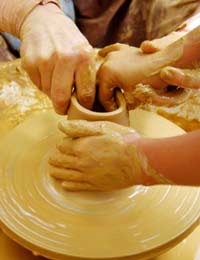 Some sad folk have hobbies most of us would find ridiculous, such as train-spotting, making model villages out of toothpicks or collecting cute little ceramic figurines. As dull as those hobbies may sound, getting a hobby actually isn't a bad idea.
Hobbies are great ways to manage stress, they stop us from dwelling on our problems, and in some cases they can actually provide an income. For working mums, they're a fantastic way to indulge in an activity simply because it's a fun thing to do.
If you have a non-creative job, you may have untapped talents and skills that have lay dormant for years, waiting to be expressed. Finding the right hobby could give you the perfect outlet to finally express yourself, and could even lead to a new career. At worst, a new hobby could give you something unique to look forward to every week, the chance to go out and do something you've never done before.
Choosing the Right Hobby
Literally thousands of hobbies are out there, so how can you choose the right one?
Keep your age, overall health and general situation in mind. While hang-gliding might be the perfect hobby for a physically active single 22-year-old, it might not be a great one for a sedentary working mum-of-three in her late forties.
Pick a hobby that's right for you – and your personality. If you are lively, bubbly and outgoing, making ships in a bottle might bore you to death. Similarly, if you are introverted and awkward, you might shy away from salsa dancing or a circus skills performance class. Then again, it might be just what you need.
If you use your brain more than your brawn, think about something cerebral. Joining a Mensa group, a book group or entering cryptic crossword puzzle competitions might be more up your alley than a legs, tums and bums class.
Combine a hobby with something that's been hanging over your head for years. If you can't drive or cook, take a driving or French cuisine class once a week. If your loft needs extending or bathroom renovating but you can't afford the manpower, take a basic DIY class.
Some people might prefer solo hobbies that allow them to get rid of stress. Playing the piano, knitting, cycling, running, reading and drawing all fit into this category, as do pilates, yoga and other forms of exercise you can learn to eventually do on your own.
Top Hobby Ideas
Gardening.
A great stress-reliever, you can garden on your own or involve the kids. Growing your own vegetables has additional benefits. If you don't have a garden, see if there is an allotment available near you.
Further education. Pottery, art, a foreign language – the choices are endless. Ask a friend or check out a taster class on your own.
Sport. Skiing, cycling, racquetball, the gym – keeping fit should be a mandatory activity for all mums, and if you find a sport you love nothing could be easier.
Social events. Whether it's a regular poker night with the girls or joining a bowling league or book club, doing something a bit different will set your mind free – if only for an hour!
Learning a new skill. Working mums often feel they're too stretched for time to try out anything new. But don't let life's daily demands stop you from extending your interests. Try bartending, beer brewing or even sushi making...
Relaxation. This doesn't have to mean massages or facials, although it could. Anything that gives working mums the chance to relax their minds is worthwhile. It could mean joining a spinning class or starting up a lunch club with friends twice a month, trying out new restaurants. Whatever works for you.
Hobbies can be a great way to open up a new world. Whether it's a sport, a solitary activity or a group project, hobbies can help busy working mums relieve stress, gain some time for themselves and develop their interests. Ask around to discover what hobbies friends and acquaintances have, and don't be afraid to try something new.
You might also like...