Building a Relationship with Your Child's Teacher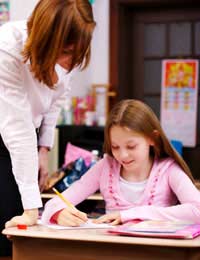 It's important for your child to have a good relationship with their teacher, but it's also important for parents and teachers to form effective partnerships. Children always are the first to benefit when their parents and teachers have the same goals in mind, when they respect each other and when they work together to make the learning experience a fruitful one.
Parent-teacher relationships set the foundation for learning, and many experts agree that parents' continued involvement is paramount for effective learning. When parents, teachers and pupils share an understanding of the curriculum, educational goals and ways to achieve them, everyone benefits.
Building a Strong Foundation
There are simple ways to start building up a good relationship with your child's teacher. Some of them may seem obvious, but you'd be surprised how many parents don't seem to know them! These simple tips can help start you off to a good start from the very beginning:
DO'S
Do make an appointment to speak with the teacher to discuss anything that is bothering you or your child. It's much better to get it out in the open than to let things build up.
Do try to talk with the teacher directly to settle an issue, rather than running to the headteacher. Teachers appreciate it if you can deal with them as first port of call; speak to the head as a last resort.
Do attend parents' evenings, or make an alternate time if you can't show up. Come even if you have no real concerns or questions, it shows your teacher you have an interest in your child and their progress.
Do offer to help out, either by accompanying the class on a school trip or coming in for an hour to talk to the class about a cultural festival, your line of work or something in which you have expertise. Teachers are always happy to have parents help out.
Do try to attend school functions, such as fairs, events and PTA meetings. It shows you have more than just a passing interest in the school.
Do ask the right questions at parent-teacher conferences. Your child's progress is most important. Find out how your child has performed in standardised tests, what the scores really mean, and what your child's strengths and weaknesses are. Also, ask what she enjoys most, how she is socialising with others, and if there are any problems of which you are not aware.
DON'TS
Don't try to talk with the teacher first thing in the morning when the kids are lining up, except to make an appointment. If it's important, you need to give it more time. If it's not, it can wait. Teachers get annoyed when they are trying desperately to get their kids into school on time and parents monopolise their attention.
Don't just show up at the school and expect to speak with your child's teacher. They are busy professionals just like you. Call the school first and make an appointment.
Don't get angry with the teacher if you get no joy on a specific issue. There are avenues to go down if you have a problem and every school has an official complaints policy. Getting rude, frustrated or belligerent can have a negative effect – and unfortunately, that sometimes can affect your child.
Don't be put off talking to your child's teacher if your first language isn't English. What you have to say is much more important than the way you say it.
Don't be defensive if the teacher says something unflattering about your child. You need to know what's going on, and it may not all be positive. But the more you know the more you can do about it.
Don't be absent during all your child's school performances, presentations and parent-teacher meetings. If work schedules make things difficult, email the teacher ahead of time and see if some rescheduling can take place. It's important that you show – and be seen to show – a real interest in your child and his/her progress.
Having a strong input from parents will help a child succeed at school, and good teachers encourage this input from the very start. Being courteous to your child's teacher and open to communication will help this important relationship get off on the right foot, and will set the tone for the rest of the year. Supporting your child's learning is one of the most important things parents can do, so do it right!
You might also like...