How to Make Friends with Other Mums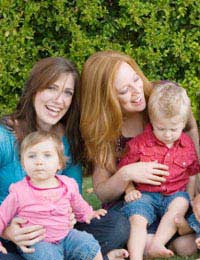 Starting school can be intimidating – both for children and for mums. If you're a first-time mum or are new to a school, facing a sea of other women who seemingly all know one another can be a daunting prospect. You don't want to seem too pushy or too shy, so how can you get to know them?
Working mums in particular can find it hard going. Often you are in a rush to drop off the children and get to work, and sometimes you are relying on a nanny, au pair or childminder to do the dropping off and picking up for you. It can seem impossible to get to know the other mums – or does it?
Making friends with other mums is not so difficult as it may sound. It's a bit like starting secondary school all over again, although this time you're a lot older – and no doubt fatter! And this time you aren't looking for a new best friend, just for some other mums to share a bit of companionship - and occasionally a cup of coffee (and a pastry or three).
Remember, it's rare that other mums will come running to you, invitation in hand. You have to be brave and approach them first. If you don't want to be standing on the wrong side of the school gates forever, then follow our advice. Have a shared goal in mind, then let the friendship come naturally...
Strategies for Making Friends
Be willing to make the first move
Become a class rep
Help organise a coffee morning or drinks
Sign up for something at school
Ask a child over to play
Be willing to make the first move
Start an innocuous chat in the playground about the weather or the state of the playground, and hope it moves on to something bigger and better. With time, you'll get lucky and eventually find someone with whom you have something in common. You're used to talking to strangers at work, now try it at school. After all, what have you got to lose?
Become a class rep
Becoming a rep means you'll be responsible for typing up the class list, so you'll have a real excuse to approach every other parent in your child's class. This will give you an easy way to ascertain which mums seem friendly and approachable, and which are as dull as dishwater. Start an easy-going chat, if things go well invite them out for coffee.
Help organise a coffee morning or drinks
Anyone, not just a class rep, can organise a class coffee morning in a local cafe. You can invite the entire class for a week next Wednesday, when you know you can come in late for work, then see who shows up. The nicer ones you can invite en masse for an evening drink at a later date at the local pub, then develop the relationships further.
Sign up for something at school
Helping out at a school event such as a class tea or music performance will guarantee you come in contact with other mums. If you eventually find you have nothing in common, at least it won't be for nought.
Ask a child over to play
Find out from your own children which kids they love to play with most, then ask the mum for a playdate. Younger kids (age five and under) almost always have an adult accompanying them when they visit friends. You can schedule a playdate on the weekend if work schedules don't allow something during the week. This will give you an excellent chance to sip coffee with another mum while the kids are occupied, hopefully giving everyone a break.
Making friends with other mums needn't be difficult. Having a strong support network at your children's school, especially if you work full-time, is crucial. Relationships with other mums aren't really that tricky to develop – after all, you already have children in common!
Ignore the adult cliques in the playground and don't try to compete with other yummy mummies. Just be yourself and eventually you'll find a bevy of like-minded women like yourself. Good luck!
You might also like...