Planning a Birthday Party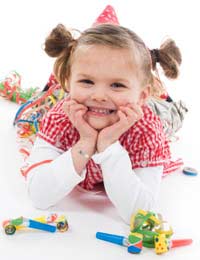 For working mums, planning a child's birthday party can be dreaded as an insurmountable ordeal. But it needn't be that way. With a little foresight and some minor organisation, you can host a big birthday bash that your child will remember for years to come. And it shouldn't take months of planning, either...
Birthday Basics
If your child is in nursery, you may not know who all his or her friends are. Ask the nursery nurse which children play with your child the most often, or quiz your child. The problem with very young children is that Sasha may be their best friend on Mondays and Tuesdays, while Sam may be their best for the rest of the week. It's hard to keep up.
The general rule of thumb is to never invite more children than your child's age – plus one. So if your little cherub is turning four, invite just five children. However, these days many mums don't want to leave children out, so they end up inviting everyone in their child's class. The party just gets bigger and bigger!
To save time and money, you may want to have a joint birthday party with another child in your son's or daughter's class. The advantages of joint parties are that you can invite twice the number of people and still pay less than half than you would on your own. You won't be leaving anyone out and you'll have another mum to share all the party planning with you. The downside is that you'll have to find room for twice as many presents once the party's over...
Party Types
Themed parties are easy to plan with just a little imagination. A girl's fairy party just involves buying fairy tablecloths, napkins and plates (go to Woolworths), and asking all the party-goers to dress up in their favourite fairy outfit. Ditto for a mermaid, pirate or clown party. Look online for more ideas (fairy games, themed party bags and decorations) if you want to really go all out.
Younger children are usually very happy with old-fashioned parties at home, with traditional party games such as pin-the-tail-on-the-donkey, musical statues and pass-the-parcel. If you go for something a lot more elaborate, you are probably doing it more to impress the other mums.
Older children enjoy smaller parties centred around a specific activity. Seven-year-old Jake, for example, might love taking five mates to the local bowling alley, while nine-year-old Megan would give anything for an afternoon ice skating. Planning ahead is key: if you order a couple of pizzas and bring your own drinks and a homemade cake, you can keep costs way down.
Getting the Best Entertainment
If you're having lots of small children you might want to hire an entertainer to keep them happy – and busy. Find one who can either blow bubbles on a machine, perform magic tricks, do a puppet show, supply a disco or make animal balloons. Or all of the above. Look online or in your local telephone directory to see who's available, or ask other mums. Sometimes an older sibling can step in to help, either painting faces or leading games.
Older children might like someone whose talents are more specific. A pre-teen girl, for example, might want a nail artist to come round and give all her friends professional manicures, or a disco teacher who can teach them some new steps. Boys might like someone from the local zoo who can bring snakes, spiders and other creatures to delight – and disgust.
Renting a Venue
If you're short on space at home, try looking elsewhere. Renting a venue can be a tricky affair as the prices can vary enormously. Your local town hall is often an affordable option, as is a church, community centre or other large local space. You can also have parties at restaurants such as McDonald's or Pizza Hut, where an obvious bonus is that the food will be provided. A soft play area with a cafe is also a good idea.
If you rent a venue, make sure there are enough chairs and table to accommodate everyone. Ask about their clean-up policy and if they require a deposit. Also, make sure there are tea/coffee making facilities for parents, and don't forget that they will appreciate a snack or two as well.
In nice weather, the local park is the cheapest – and often nicest – option. Buy a cheap pinata, fill it with sweets, and then let the kids run wild on the swings and slides. The only thing you'll need to provide is the food – sandwiches, crisps, juice boxes and some chopped-up vegetables will do, along with the cake. And party bags.
Love that Loot
Party bags, unfortunately, have become a party must-have. Younger kids love a cheap toy or two, a balloon and some sweets, but don't go overboard on the sugar. You can always throw in a cereal bar or packet of raisins along with a lolly and a chocolate bar – and the parents will be happier as well.
Older children (aged six, seven and eight) also like party bags, but you can substitute a small gift, such as a book, yo-yo or small soft toy,instead.
Planning a birthday party shouldn't take up too much of your time or energy. And just when you think it's all over and sit down for that well-deserved cuppa, you have all the thank-you cards to look forward to!
You might also like...