Tips for Getting that Homework Done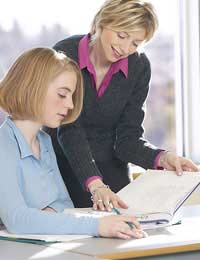 Nobody likes homework. Kids hate doing it, teachers hate correcting it, and parents hate helping their children with it. If you're a working mum, finding time to help your kids with their homework is even more difficult. But as it has to be done, here are some tried-and-tested tips to make doing it more bearable – for everybody – and also get better results.
Set the Ground Rules
Make a routine. Kids respond well to routines. Set aside a time each day when they can do their homework, without any distractions. Working mums will find this extremely difficult, so if you're not home before the kids are tucked up in bed, make this a requirement for your nanny/au pair/childminder. Don't wait until right before bedtime, however. Some children, not many, do better in mornings after a good night's sleep. If your child falls into that category, put the coffee on early!
Find a comfortable place to study. Finding a quiet, comfortable place to do homework is key. Don't allow your child to work in front of the telly or where other siblings are bickering, talking or playing computer games. They need to be away from all distractions in quiet. A spare room isn't necessary, the end of the kitchen table or a corner of your bedroom will do nicely.
A little every day. Make sure your children know that they will be required to do a little homework every day, NO MATTER WHAT (smaller children may be allowed to do homework every other day). Once they understand what is expected of them it will become easier. Working mums will find weekends the easy time to do homework with their kids, especially if your child has long-term projects that don't have to be worked on daily.
Help them along. Let's face it, many homework assignments can be incomprehensible to a child, boring or a combination of the two. It's a lot easier when a parent or adult can sit with the child and do the homework with them. While that's easier said than done, being there for difficult tasks is important. If they find the work difficult, don't supply answers, but guidance about how they can find the answers themselves.
Provide breaks. Many children find homework frustrating, especially if they don't grasp the task at hand immediately. Allow them breaks and let them vent some of the frustration doing something else, instead of venting it at you! However, it is imperative that they finish their work before moving on completely to something else.
Positive Reinforcement
For the vast majority of humans – adults as well as children – positive reinforcement works better than negative reinforcement. Don't threaten your children if they refuse to do homework, instead, reward them when they do it well. And don't put all the emphasis on results: the goal should be to understand and enjoy the material, not just perform well on tests.
Make a star chart. Younger children in particular appreciate star charts, where they are rewarded each time they finish a specific task. If you child is in Year One and balks at having to read aloud three times a week, make it into a game. Use an oven timer, and every time 10 minutes is up he gets a star on his chart. A certain number of stars means a special treat on sweetie day.
Have a homework penny jar. Start the week by putting 50 pennies in a jar. Every time your child does something good – reading on his own, finishing maths homework without complaining – he gets another penny. If he's naughty – whines about having to do homework or refuses to do it – he loses a penny. At the end of the week he can buy what he want with the pennies in the jar.
Reward progress, and work towards a goal. Set simple goals with simple rewards for homework accomplished well without complaining. If your child willingly does homework three nights out of the week, for example, on the weekend she'll be allowed to visit the cinema, rent a special DVD or go out for a pizza. Make it fun.
Praise goes a long way. Don't forget that you can catch more flies with honey than vinegar. Tell your child how well they are doing as often as possible and comment on their progress, not how they are doing in relation to others.
Keeping in Touch with the Teacher
Having good contact with your children's teacher is important, both to monitor their progress and to fully understand what is expected on the homework front. Don't be embarrassed to ask if you don't understand something. Times have changed since most of us were in school, and children are taught things differently. You might be unaware of how your child is being taught a particular subject, and need to get a tiny refresher course yourself!
You might also like...